The living room serves as the heart of any home, where a harmonious blend of style and comfort can transform it into a welcoming and relaxing space. Achieving the perfect balance between aesthetics and functionality is key when furnishing your living room. In this article, we'll delve into a variety of living room furniture ideas that seamlessly combine style and comfort, enhancing the overall ambiance of your living space.
Living Storage Options
Efficient storage is a vital aspect of a well-designed living room. To maintain an organized and clutter-free environment, consider incorporating stylish storage options. Here are some inspiring ideas:
TV Unit
TV unit plays a pivotal role in today's modern living room, serving as a captivating centerpiece and providing a designated hub for your television and multimedia gadgets. When faced with the task of selecting the perfect TV unit, several essential factors come into play, including the spatial limitations of your living area, the dimensions and aesthetic of your TV, and your personal style preferences. It is imperative to seek out units that not only offer ample storage capacity but also cater to the organization of cables, gaming consoles, DVDs, and various other accessories.
Ajenta Modern TV Unit Cabinet #1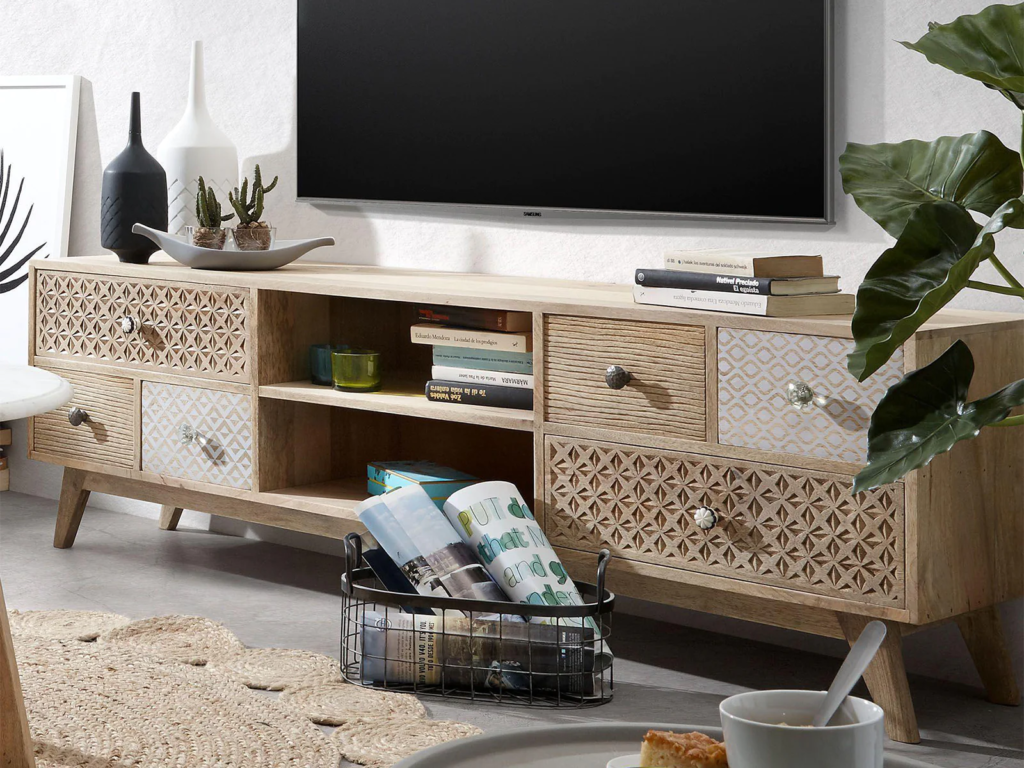 Dimensions(LxWxH): 14x63x20 inches | Material: Solid Wood | Color: Matte
Rio Sheesahm Wood TV Unit #1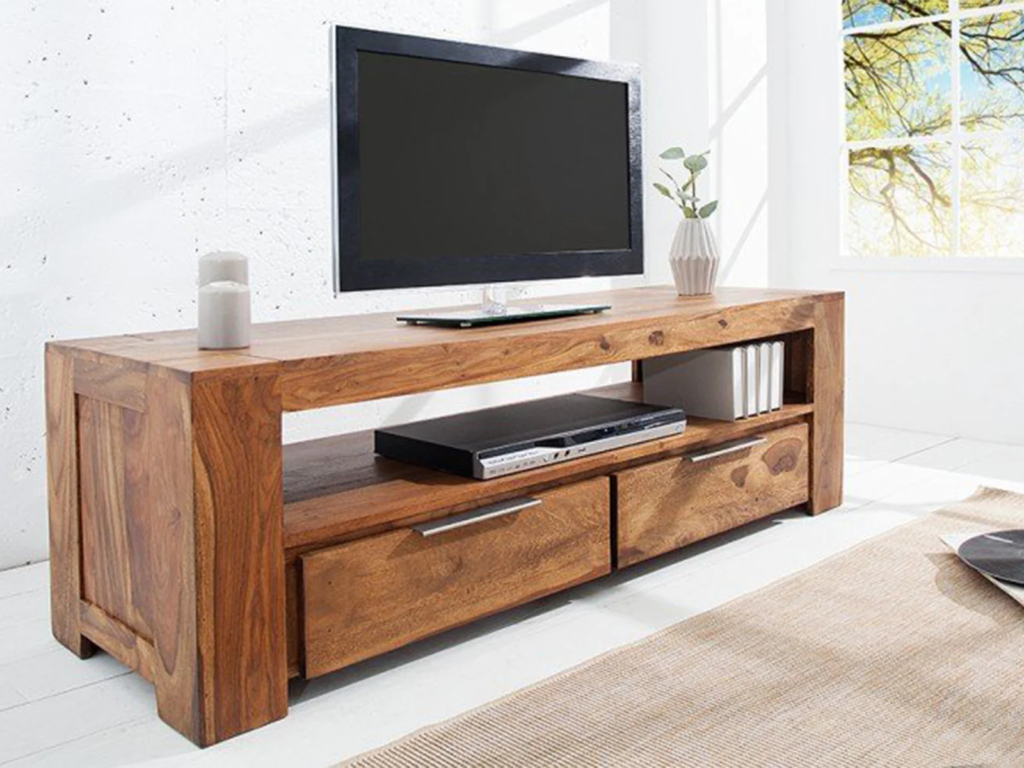 Dimensions(LxWxH): 18x51x18 inches | Material: Sheesham | Color: Natural
Display Unit
Adding a display unit to your living room not only enhances its aesthetic appeal but also provides an opportunity to showcase your collectibles and decorative items. Look for a display unit that complements the overall style of your living room and offers different compartments or shelves to display various items. From glass-front cabinets to open shelves, you have a plethora of options to suit your preferences.
Aristocrat Acacia Wood Cabinet #9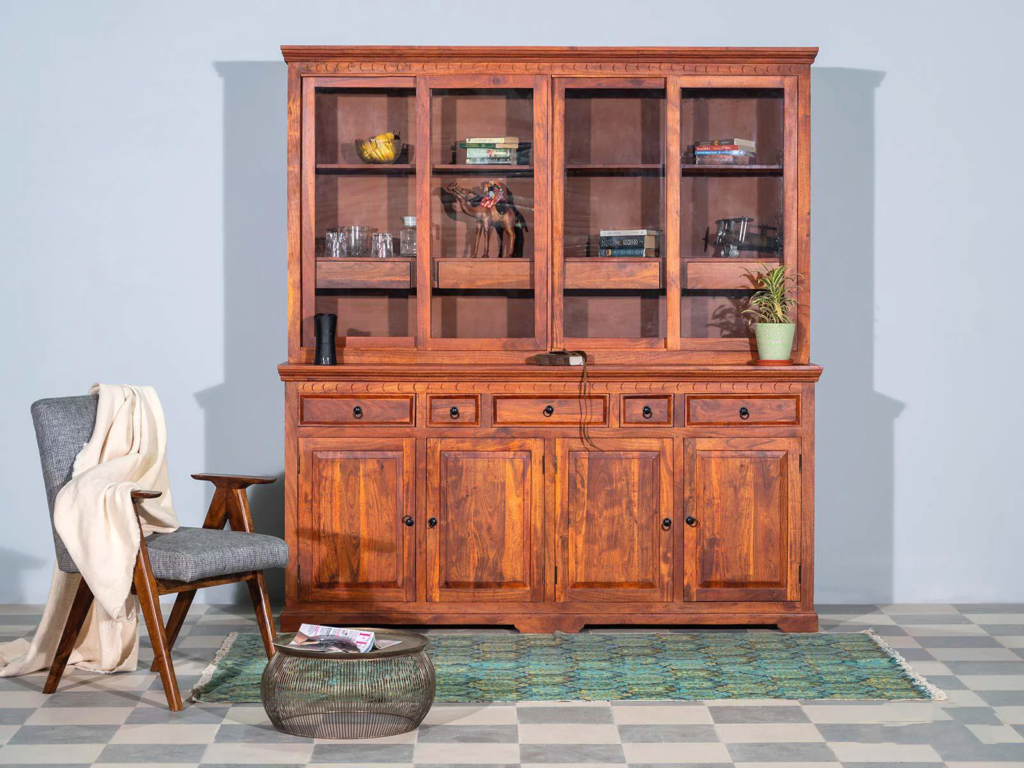 Dimensions(LxWxH): 15x134x196 inches | Material: Acacia | Color: Nougat
Florida Vintage Acacia Wood Display Cabinet #4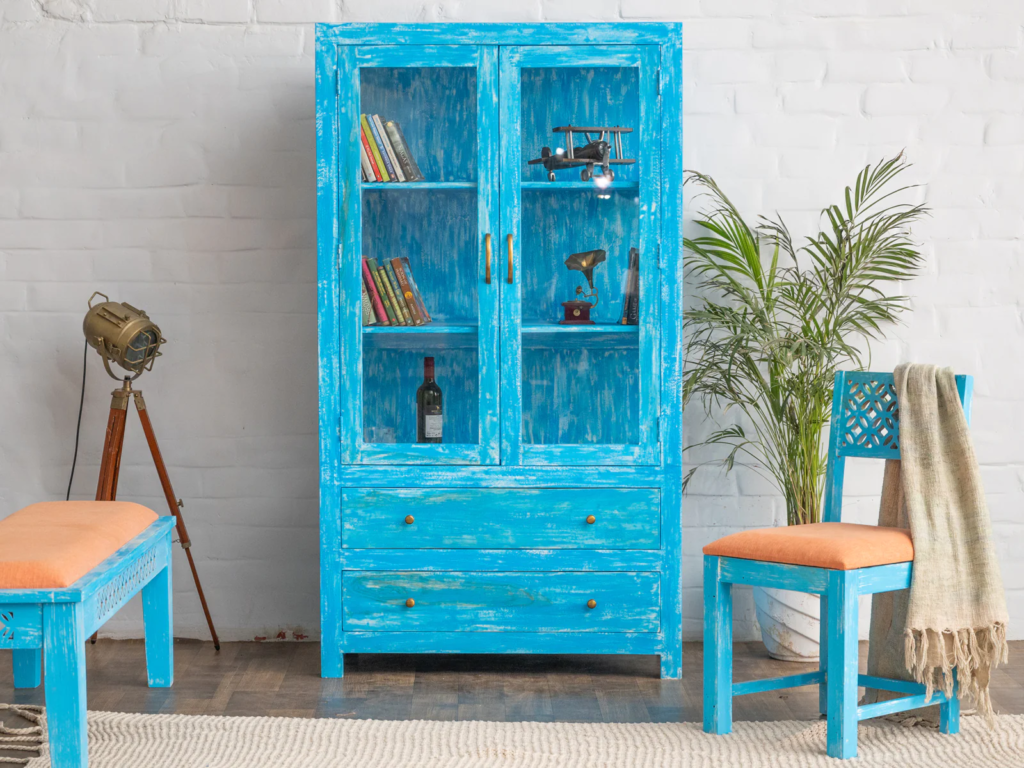 Dimensions(LxWxH): 18x40x72 inches | Material: Solid Wood | Color: Vintage Blue Distressed
Bookshelf
A bookshelf is a versatile piece of furniture that seamlessly combines functionality and style. It not only provides a designated place for your books but also offers a platform to display decorative items, plants, and art pieces. When choosing a bookshelf, consider the size and design to ensure it integrates smoothly into your living room layout. With creative arrangements of books and accessories, you can add a captivating visual interest to the space.
Marwar Wooden Book Shelf #1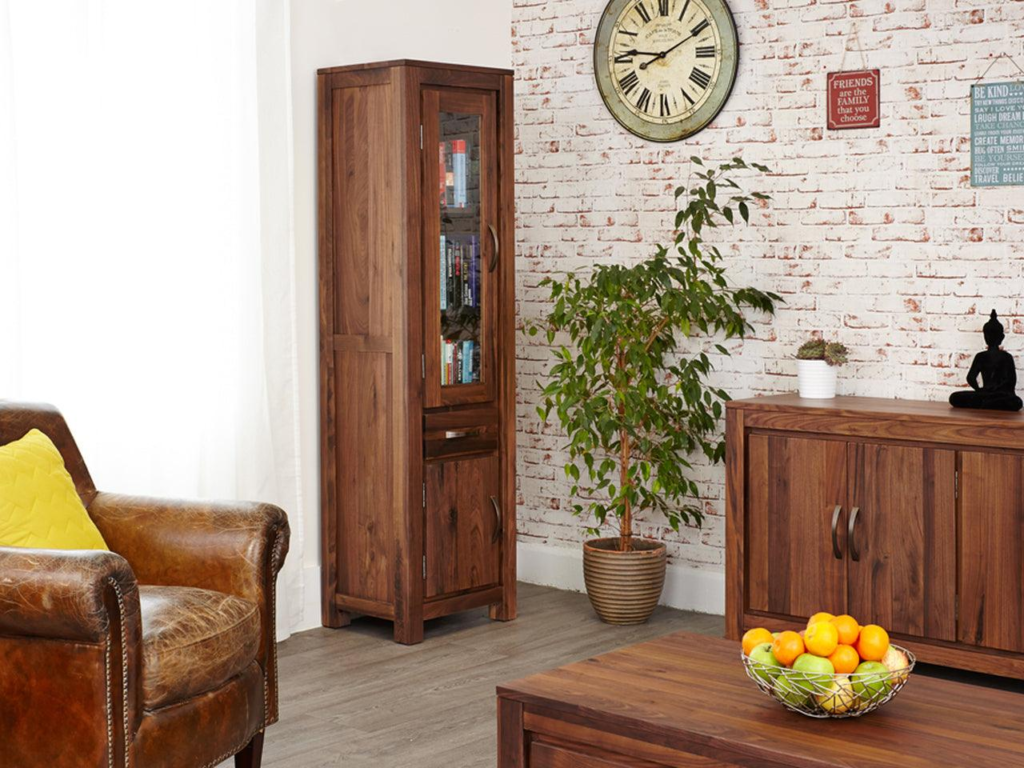 Dimensions(LxWxH): 15.75x20x71 inches | Material: Solid Wood | Color: Matte
Buckingham Solid Sheesham Wood BookShelf #2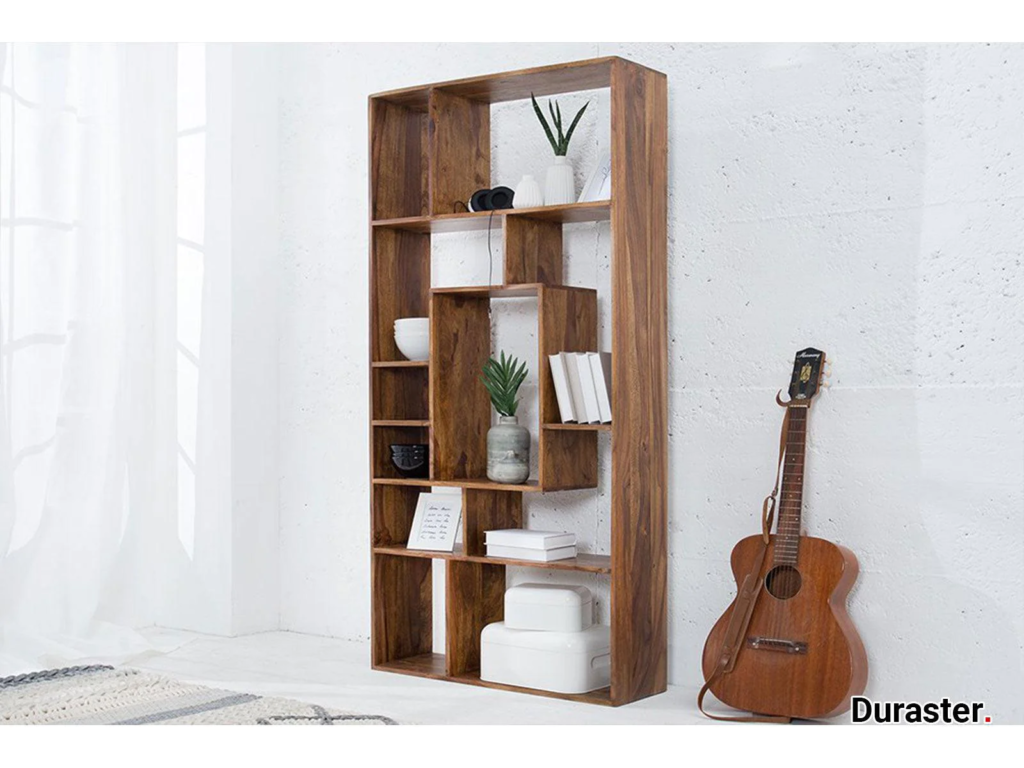 Dimensions(LxWxH): 10x32x71 inches | Material: Solid Wood | Color: Lacquered Honey
Trunk
For a unique storage solution infused with a touch of vintage charm, consider incorporating a trunk into your living room. Storage Trunks can serve as coffee tables, providing storage space inside for blankets, pillows, or other items. Moreover, they can double as additional seating when needed. Select a trunk that aligns with your living room's style and opt for one with sturdy construction for longevity.
Misa Stylish Mango Wood Storage Wine Trunk / Coffee Table #4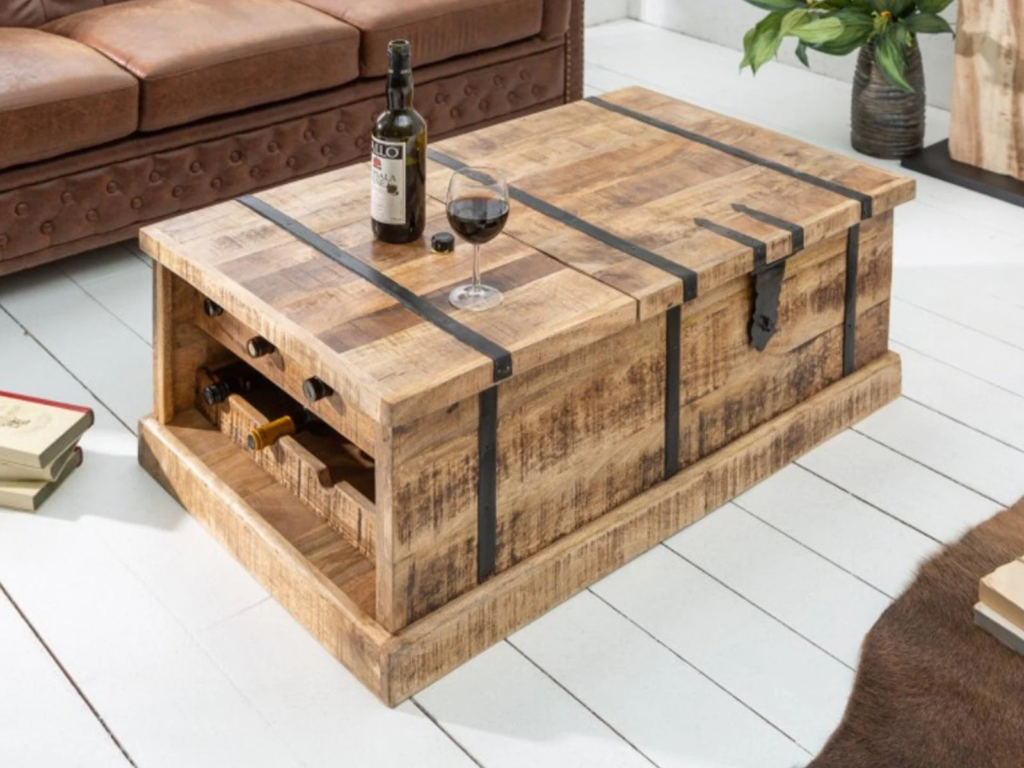 Dimensions(LxWxH): 16x40x24 inches | Material: Solid Wood | Color: Misa
Verge Wooden Coffee Table With Storage #2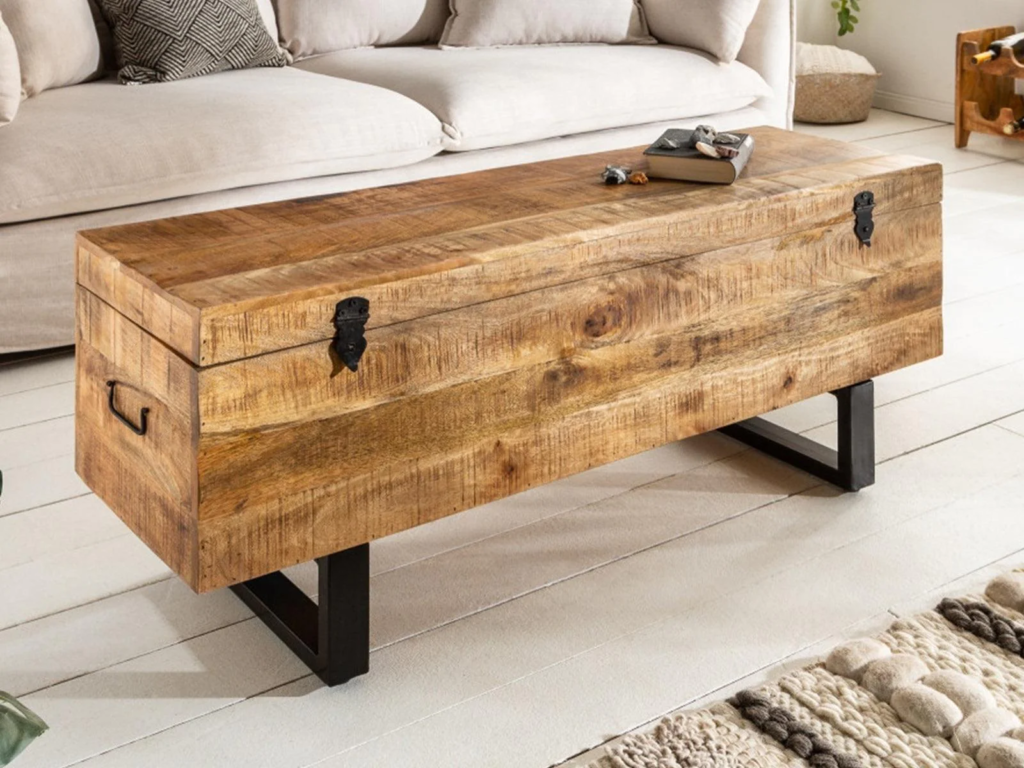 Dimensions(LxWxH): 14x45x19 inches | Material: Wood / Frame | Color: Natural
Combining Style and Comfort
When selecting living room furniture, it is vital to consider both style and comfort. Here are a few factors to bear in mind:
Choosing the right furniture materials: Look for furniture crafted from durable materials that can withstand everyday use. Consider the comfort of the upholstery, such as plush fabrics or leather, ensuring they align with your preferences. Additionally, opt for eco-friendly and sustainable materials to contribute to a greener environment, if it resonates with you.
Ergonomic design considerations: Pay close attention to the ergonomic aspects of your furniture, particularly seating options. Ensure that sofas and chairs provide adequate support for maintaining proper posture. Look for adjustable features that allow you to customize the furniture according to your comfort needs. Incorporating ergonomic design elements can significantly enhance your overall sitting experience.
Also read: Dining Delights: How to Design a Dining and Bar Room That Stimulates and Inspires
Creating a stylish and comfortable living room revolves around striking the right balance between aesthetics and functionality. By incorporating well-designed storage options such as TV units, display units, bookshelves, and trunks, you can keep your living room organized while infusing it with captivating visual interest. Additionally, prioritize furniture materials and designs that prioritize comfort and ergonomics, enabling you to craft a relaxing and inviting space. With the right furniture ideas, you can transform your living room into a stylish haven where style effortlessly merges with comfort.
Frequently Asked Questions
How do I choose the right TV unit for my living room?
Consider size, style, and storage needs when selecting a TV unit.
Can I mix and match different types of storage units?
Yes, mixing storage units can add visual interest to your living room.
What are some popular materials for living room furniture?
Popular materials include wood and leather for living room furniture.
How can I create a cozy atmosphere in my living room?
Create a cozy atmosphere with warm lighting, soft textures, and comfortable seating.