Introduction: Making the Most of Your Compact Living Space
Creating an attractive and functional living area is highly significant in the realm of interior design. This holds particularly true for 1BHK (1 Bedroom Hall Kitchen) apartments, where space limitations require innovative design solution. Our goal is to establish a room that not only operates effectively but also radiates cultural appeal. We're in search of interior design concepts to aid you in transforming your 1BHK apartment into a sleek and cozy haven, skillfully merging practicality and elegance.
Interior Design Ideas For 1 BHK Flat
Furniture that saves space: Making every inch count
Innovative furniture selections are necessary for small living areas. Choose furniture with many uses, such as couch beds, extendable dining tables, and wall-mounted workstations. These not only free up room but also give your apartment a little more adaptability.
Mirrors: Widening Perspectives
By reflecting light and creating the appearance of more space, strategically positioned mirrors give the impression of space. To improve natural light, think about placing a big mirror next to a window.
Airy and Open Feeling with a Neutral Palette
Walls and furniture painted in light and neutral tones open up the room and give the impression that it is larger. A calm atmosphere may be produced by using colors like white, cream, and delicate pastels.
Solutions for Vertical Storage: Climbing New Heights
Use hanging storage, wall-mounted cabinets, and tall bookcases to make the most of vertical wall space. In addition to freeing up floor space, vertical storage gives your apartment a unique decorative feature.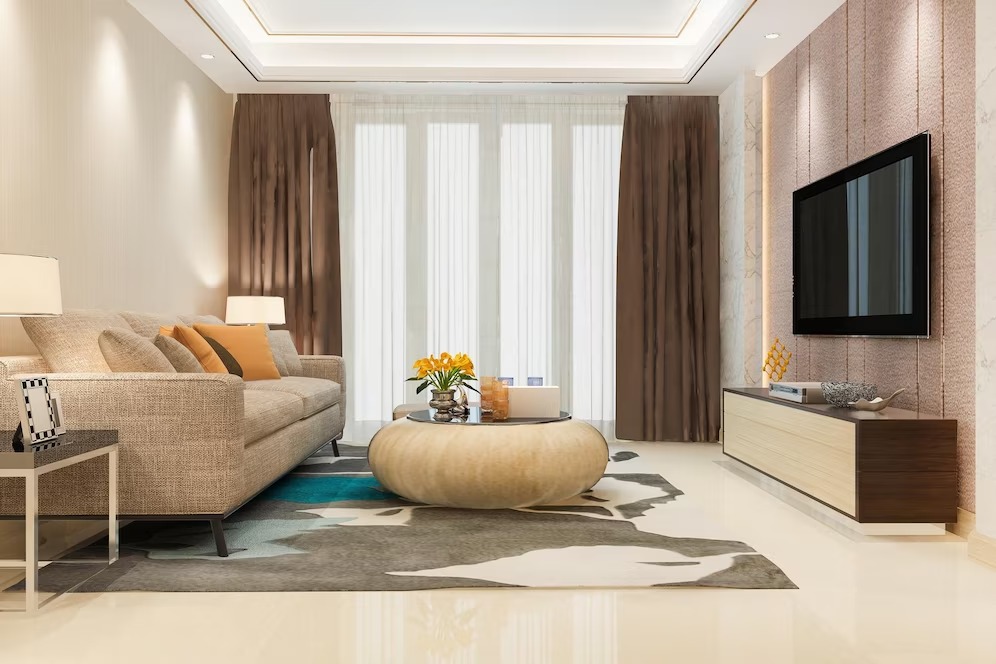 Smart Lighting: Bringing Elegance to Light
In smaller settings, good lighting is essential. Choose layered lighting that includes task lighting, overhead lights, and ambient sources. Wall sconces and pendant lights may give a touch of class.
Exposed Legs on Furniture: Creating Visual Flow
By allowing light to filter through, furniture pieces with exposed legs give the impression of being more open. By giving a clear view of the floor, this method makes the space appear less congested.
Sliding Doors: Smooth Division
Sliding doors can improve space efficiency and improve traffic flow between rooms. Sliding doors with mirrors or frosting may also be ornamental.
Small-scale decoration: appropriate accents
Choose smaller pieces of décor rather than larger ones that overpower the room. Character may be infused without clutter by using a small indoor garden or an assortment of tiny works of art.
Flexible at its Best: Foldable and Stackable
Purchase collapsible tables, stacking stools, and folding seats. When not in use, they may be put away, giving flexibility for various circumstances.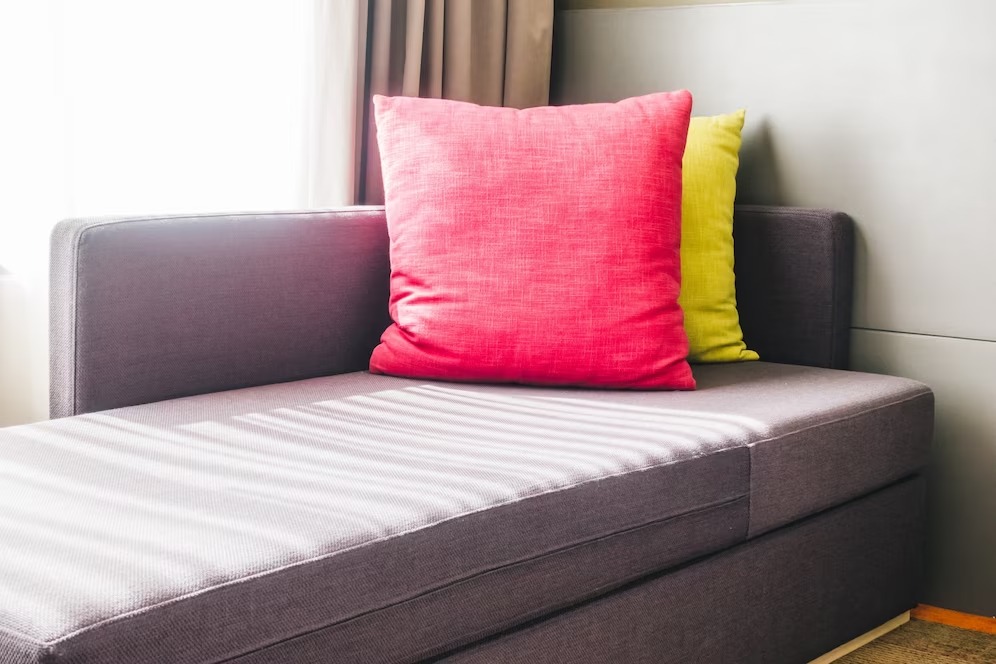 Less is more with minimalism
Design with a simple aesthetic, emphasizing the most important pieces of furniture and accessories. Smaller flats benefit from the peaceful, uncluttered atmosphere this produces.
Floating Furniture
The Illusion of Space Opt for wall-mounted or furniture with exposed legs to provide the impression of space beneath. Furniture that floats gives the room a feeling of lightness.
Clever Room Dividers: Functional Segmentation
Utilize shelving units, hanging curtains, or open bookshelf to divide spaces without obstructing them entirely. These dividers add functionality while maintaining an open feel.
Monochromatic Scheme: Visual Cohesion
Designing using a monochromatic color scheme—where various shades of a single color dominate—creates a cohesive look that visually enlarges the space.
Multi-Purpose Zones: Making Every Area Count
Transform corners and alcoves into functional spaces. Create a reading nook by the window or a mini workspace under the stairs to maximize utility.
Dual-Use Furniture: Bed and Beyond
Opt for a sofa bed or a bed with storage underneath. These dual-use options are space-efficient and eliminate the need for extra furniture.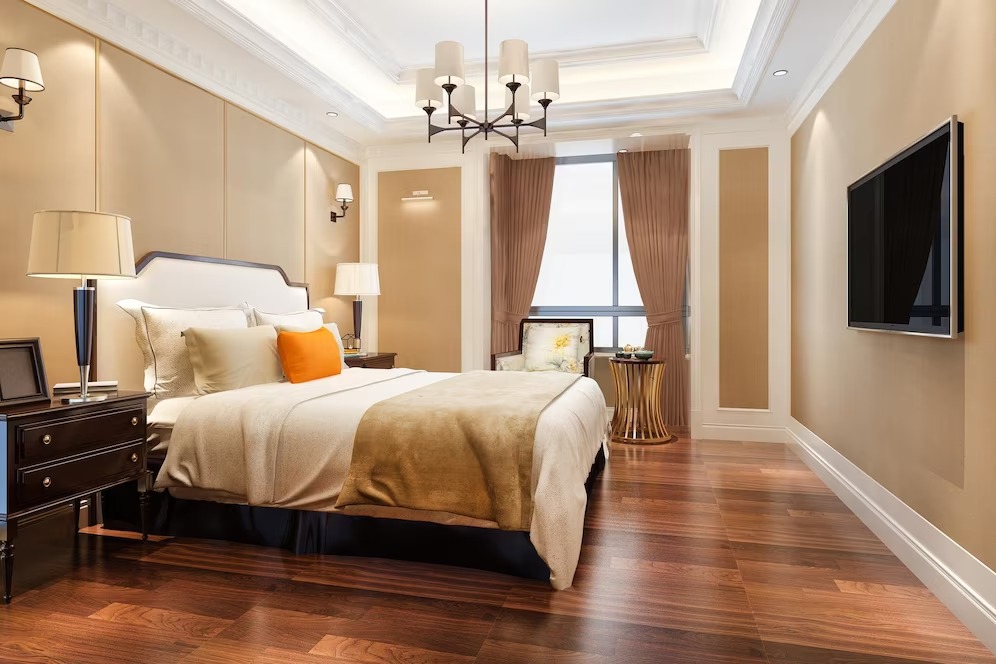 Reflective Surfaces: Added Depth
Incorporate reflective surfaces like glass tabletops and mirrored cabinets. These elements add depth and dimension, giving the illusion of a larger room.
Hidden Storage: Concealed Clutter
Choose furniture with hidden storage compartments. Ottoman with storage, beds with drawers, and coffee tables with shelves keep clutter at bay.
Open Shelving: Functional Displays
Open shelves in the kitchen and living area allow you to display items while maintaining accessibility. Just ensure they're organized neatly to avoid a messy look.
Bold Accents: Focal Points
Incorporate bold and vibrant accents through cushions, curtains, or a single statement wall. These draw attention away from the size of the room.
Convertible Furniture: Adapting to Needs
Invest in convertible furniture like a dining table that can be extended when needed. Such pieces adapt to your requirements, reducing the need for excess furniture.
Seamless Flooring: Uninterrupted Flow
Use the same flooring throughout the flat to create a seamless flow between rooms. This eliminates visual breaks and makes the space appear more connected.
Maximized Verticals: Tall Storage Units
Go beyond eye-level storage with tall cabinets and shelves that reach the ceiling. This optimizes storage without encroaching on valuable floor space.
Suspended Decor: Visual Drama
Hang potted plants, pendant lights, or art installations from the ceiling. This draws the eye upwards, making the room feel taller and more open.
Compact Appliances: Functional Elegance
Opt for smaller and sleeker appliances for the kitchen. These not only save space but also add a touch of modern elegance.
Transforming Space with Ingenious Design
It takes a combination of imagination, pragmatism, and attention to detail to transform your 1-bedroom apartment into a chic and cozy haven. You may successfully combine beauty and usefulness by putting the aforementioned interior design concepts into practice, making the most of your little living area. In order to maximize every square inch while maintaining your unique sense of style, keep in mind that smart design is essential.
Frequently Asked Questions (FAQ's) related to 1 BHK Flat Interior Design
How to arrange a 1 BHK flat?
Smart space use: multi-functional furniture, vertical storage, light colors, mirrors, open layout, personalized minimal decor.
What is the cost of interior design for 1BHK flat in Mumbai?
₹2-5 lakhs or more. Varies with design, materials, furnishings.
How much does 1BHK interior design cost in Bangalore?
₹1.5-4 lakhs or more. Depends on layout, customization, materials.
What is the cost of 1BHK interior design in Chennai?
₹1-3.5 lakhs or more. Design intricacy, materials influence cost.