Discover stylish furniture designs for small spaces in our guide. We offer innovative solutions to maximize functionality and aesthetics in tiny rooms. Whether you're in a cozy apartment or compact house, we have curated ideas to transform your limited space into a stylish sanctuary. Let's dive in and maximize your small room's style!
Smart storage
Maximize space with multifunctional furniture featuring built-in drawers or shelves. Utilize the space beneath the bed for extra storage. Incorporate wall-mounted shelves and floating nightstands for a modern touch.
Nature Solid Wood Live Edge Wall Mounted Shelf #1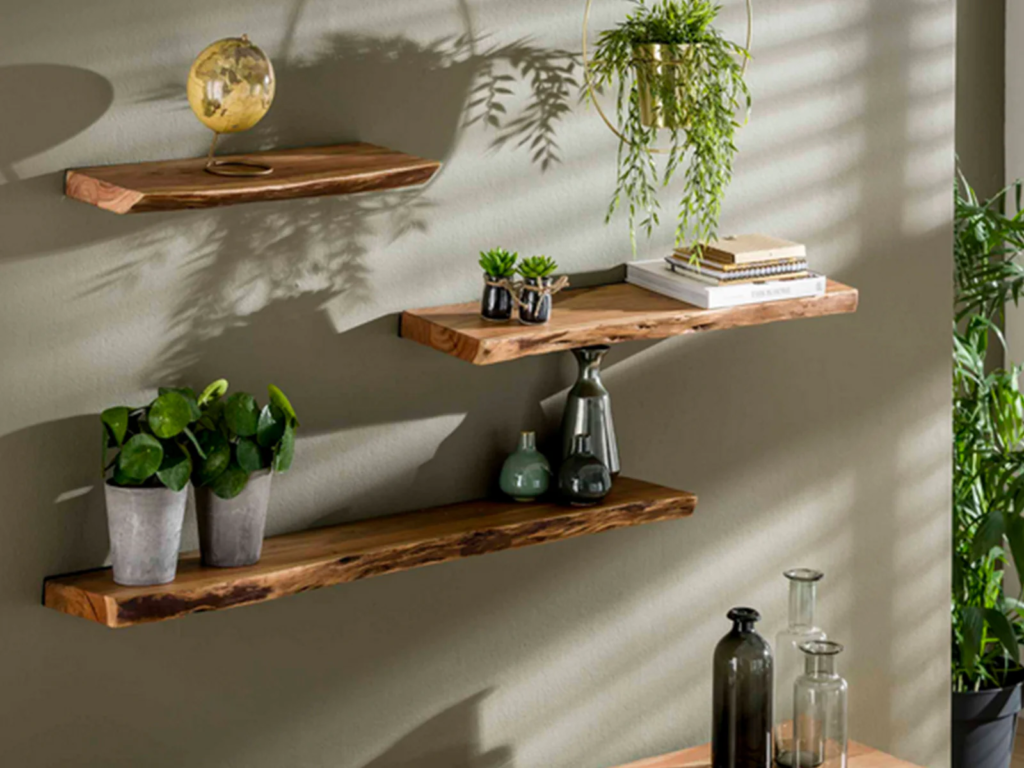 Dimensions(LxWxH): 90W x 20D x 4H inches | Material: Solid Wood
Floating Nightstands
Mirrors for illusion
Create the illusion of a larger room by strategically placing mirrors on walls. Reflect light to make the bedroom appear more spacious. Consider a floor-to-ceiling mirror or a large decorative mirror as a stylish focal point.
Misa Wall Mounted Mirror #28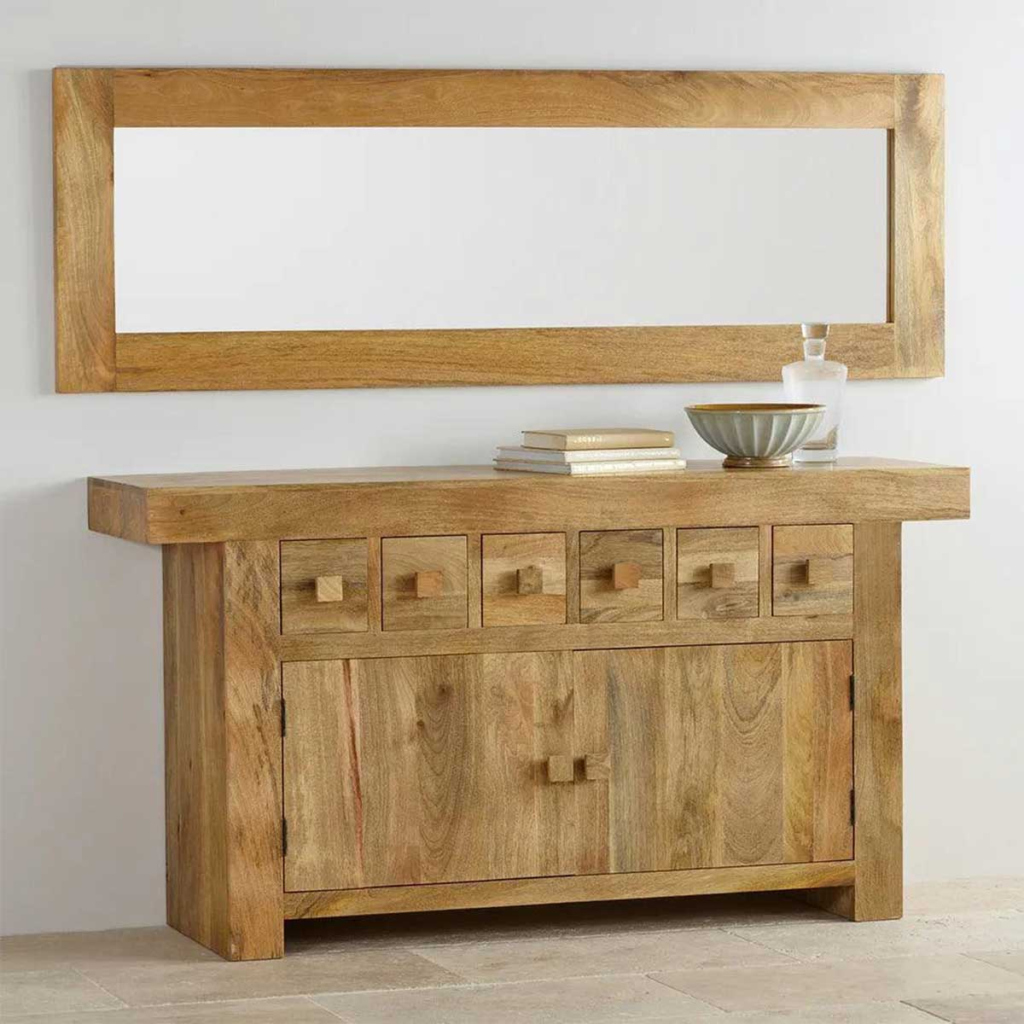 Dimensions(LxWxH): 47″/120Cms W x 1″/2.5Cms D x 24″/60Cms H inches | Material: Solid Wood
Dessart Modern Wall Mirror #8
Dimensions(LxWxH): 20W x 1D x 30H inches | Material: Solid Wood
Compact minimalism
Opt for sleek, minimalistic furniture that complements small spaces without overwhelming them. Choose clean lines and simple designs for a visually appealing and uncluttered look.
Loft beds
Maximize floor space by using loft beds that elevate the sleeping area. Transform the space underneath into a cozy reading nook, a small desk area, or a mini living space, adding a unique touch to your bedroom.
Gangaur Solid Sheesham Wood Bed #1
Dimensions(LxWxH): 60″x78″(Queen)/72″x78″(King)W x 87inch D x 36inch H | Material: Solid Wood
Foldable furniture
Embrace the convenience of foldable furniture, allowing you to adapt your space based on your needs. Invest in a folding desk and chairs that can be easily stored when not in use, providing flexibility and functionality.
Foldable Dining Table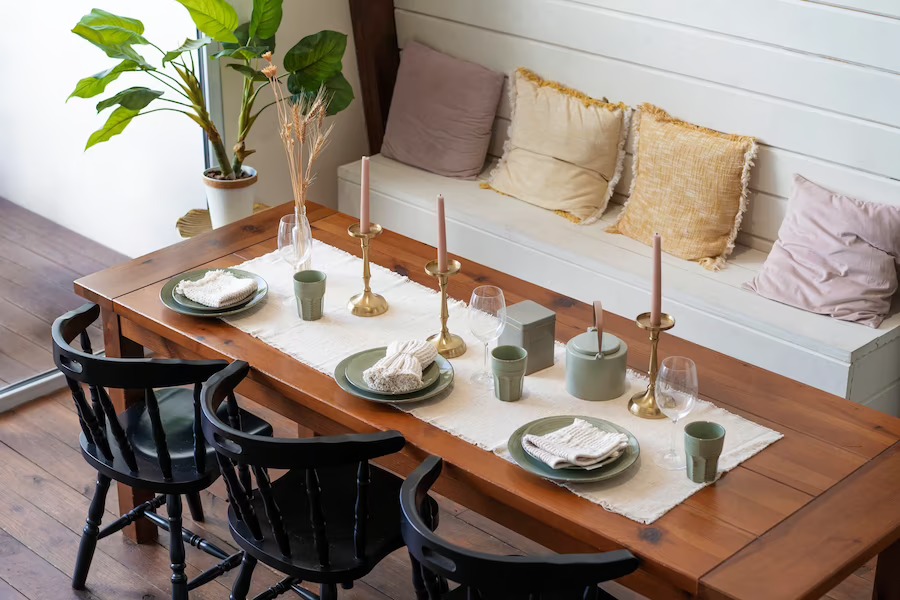 Bunk beds for sharing
Efficiently utilize vertical space in shared bedrooms with bunk beds. Opt for designs with built-in storage compartments or integrated desks to optimize functionality. Bunk beds also add a sense of fun and adventure to the room.
Bunk Beds
Sliding doors
Maximize space efficiency by replacing traditional doors with sliding doors. They not only save space but also offer a sleek and modern aesthetic. Enjoy smooth gliding doors that free up floor space for other furniture arrangements.
Dual-purpose furniture
Choose furniture that serves multiple functions without compromising style. Look for ottomans with hidden storage or daybeds with trundles for additional sleeping space. Make the most of every piece in your small bedroom.
Gangaur Solid Wood Trundle Bed #1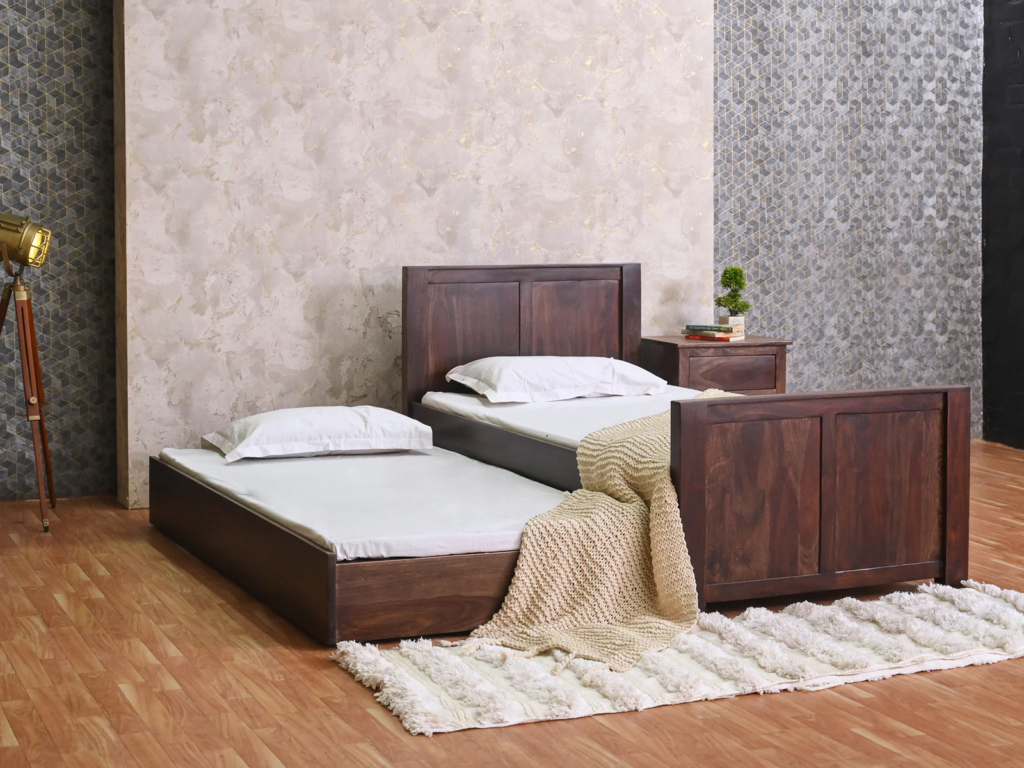 Dimensions(LxWxH): 81L x 40W x 36H | Material: Solid Wood
Built-in shelves
Utilize vertical space effectively by installing built-in shelves on empty walls. Display your favorite books and decorative items while keeping the floor clutter-free. Customize the shelves to fit your room's dimensions and enhance its overall style.
Nairobi Sheesham Wood Wall Mounted Cabinet #10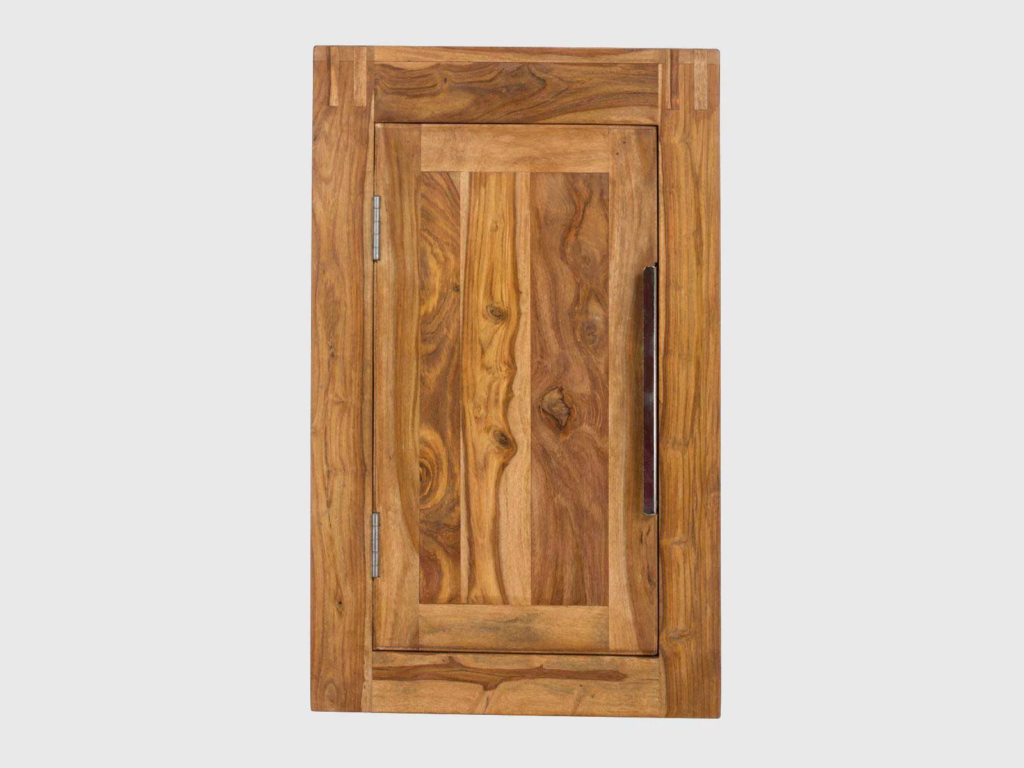 Dimensions(LxWxH): 20L x 42W x 70H | Material: Solid Wood
Light color palette
Opt for a light and airy color palette to enhance the sense of space in your small bedroom. Choose soft pastels, neutrals, and whites for walls, furniture, and decor. Add pops of vibrant colors through pillows, curtains, or artwork for visual interest.
Diana U Shaped Sectional Fabric Sofa (Light Grey) #39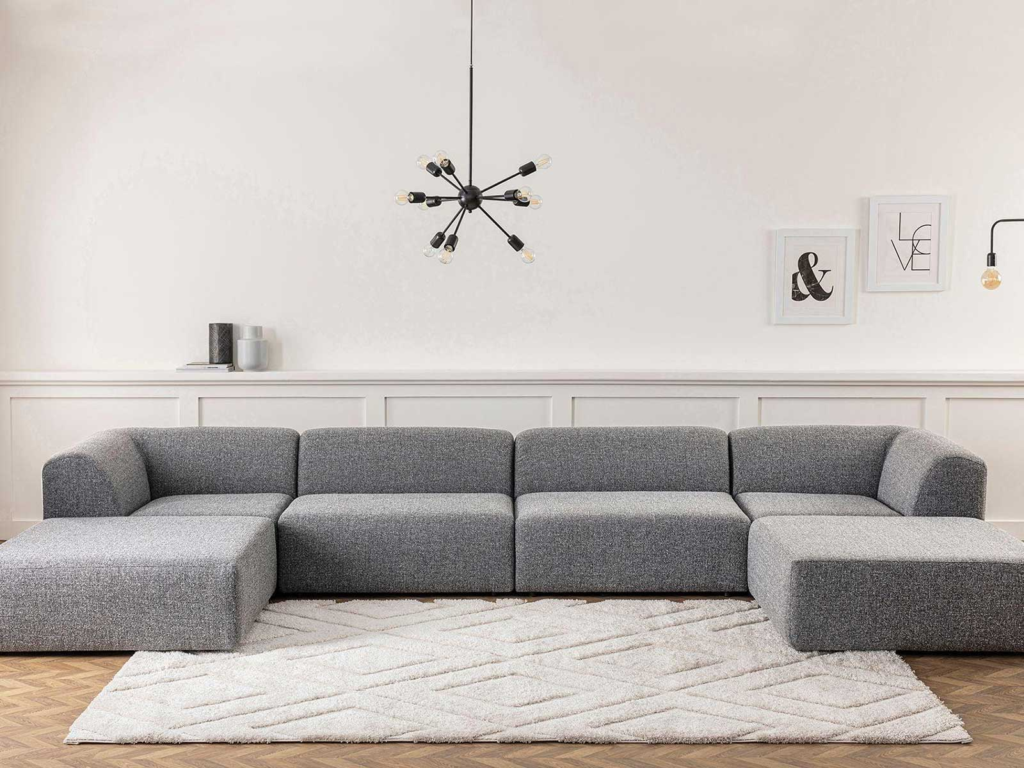 Dimensions(LxWxH): L105″ x W32″ x H30″ | Material: Solid Wood, Premium Polyester Fabric
Bedroom Furniture Designs for Small Rooms
Designing a small bedroom can be challenging, but with the right furniture designs, you can create a stylish and functional space. By incorporating clever storage solutions, minimalistic furniture, and utilizing vertical space effectively, you can maximize every inch of your small room. Remember to choose a color palette that enhances the sense of space and reflects your personal style. With these brilliant bedroom furniture designs, your small room will exude big style and make a lasting impression.
Frequently Asked Question (FAQs)
How can I make a small bedroom look bigger?
Make your small bedroom feel larger with these tricks: Use mirrors to reflect light and create space. Choose light colors for brightness. Opt for minimalist furniture to avoid clutter. Maximize storage with multifunctional pieces. Utilize vertical space with shelves. Keep the room organized and open.
What are some creative storage solutions for small bedrooms?
Maximize small bedroom storage with innovative solutions: under-bed storage, floating shelves, furniture with hidden compartments, vertical organizers, sliding door wardrobes, and storage boxes. Keep belongings organized and make the most of limited space.
Are loft beds suitable for adults?
Yes, Loft beds are ideal for adults in small spaces, offering additional room underneath for a home office, seating, or storage. Ensure the bed is sturdy and can support adult weight. Find a style that matches your bedroom decor and personal preference. Maximize your space with a functional and stylish solution.
How can I create privacy in a small shared bedroom?
Ensure privacy in small shared bedrooms with these ideas: Use curtains or dividers to separate sleeping areas. Add room dividers or folding screens. Strategically arrange furniture for separate zones. Consider noise-canceling features. Establish boundaries with roommates for mutual respect.
Can I use dark colors in a small bedroom?
In small bedrooms, dark colors can add depth and drama. Use them as accents, paint an accent wall, and balance with ample light sources. Choose lighter furniture and accessories. Reflective surfaces like mirrors enhance light distribution. Create a stunning balance of dark and light for a captivating space.
How can I make a small bedroom feel cozy?
Create a cozy small bedroom with warm colors, soft lighting, and textured layers. Personalize with artwork and sentimental items. Opt for soft curtains and dimmable lighting. Arrange furniture for comfort and easy movement. Transform your space into a cozy retreat that welcomes you with open arms.