Design your dream living room with a wooden center table that reflects your style and adds functionality as a focal point. Follow these steps to choose the ideal center table: Determine your style, assess size and shape, select the wood material, consider finishing and stain, pay attention to design details, prioritize functionality, ensure quality and durability, set a budget, visualize the placement, compare options, and make a decision.
Introduction
The center table is versatile, bringing people together and providing a convenient surface for beverages, books, and decor. It enhances the living room's aesthetics when chosen wisely.
Importance of a Center Table
In any living room setup, a wooden center table serves as an essential fixture offering both functional and artistic features by serving as an anchor point for the seating arrangement while also providing surfaces on which different activities such as playing games can take place among others. Therefore, choose a center table that complements your furniture, creating harmony in your living space.
Factors to Consider Before Buying
Before buying a wooden center table for your home looks into specific factors mentioned below;
Size and Shape
Firstly consider size but ensure you choose one based on the available space in proportion to where you want it positioned without hindering movement around the house.
Material
Material is critical like wood robustness denoted by oak or teak; hence there's a need to take time defining what suits you best on longevity aspects while taking into consideration overall design aesthetics.
Style and Design
Lastly, play with style and design, which directly corresponds with the ambiance of your living space. Harmonize table legs, color finish, and other decorative elements when shopping for wooden center tables.
Functionality
Consider how you plan to use the center table. If you often entertain guests, a table with additional storage or a lift-top design can be beneficial. Some center tables come with built-in shelves or drawers to keep your living room organized. Evaluate your specific needs and select a table that offers the desired functionality.
Budget
Before buying a wooden center table, determine your budget. Prices vary based on wood quality and craftsmanship. Set a realistic budget. Explore options within that range. Quality and durability are important. Invest wisely.
Different Types of Wooden Center Tables
Different types of wooden center tables offer distinctive features and qualities. Here are four commonly chosen options:
Coffee Table
A coffee table is a popular and versatile center table. It is low in height, providing easy access. Coffee tables come in various shapes and sizes, suitable for different room layouts. They have a flat tabletop and sturdy legs or a solid base.
Novo Premium Solid Acacia wood Nested Side / Coffee Table #1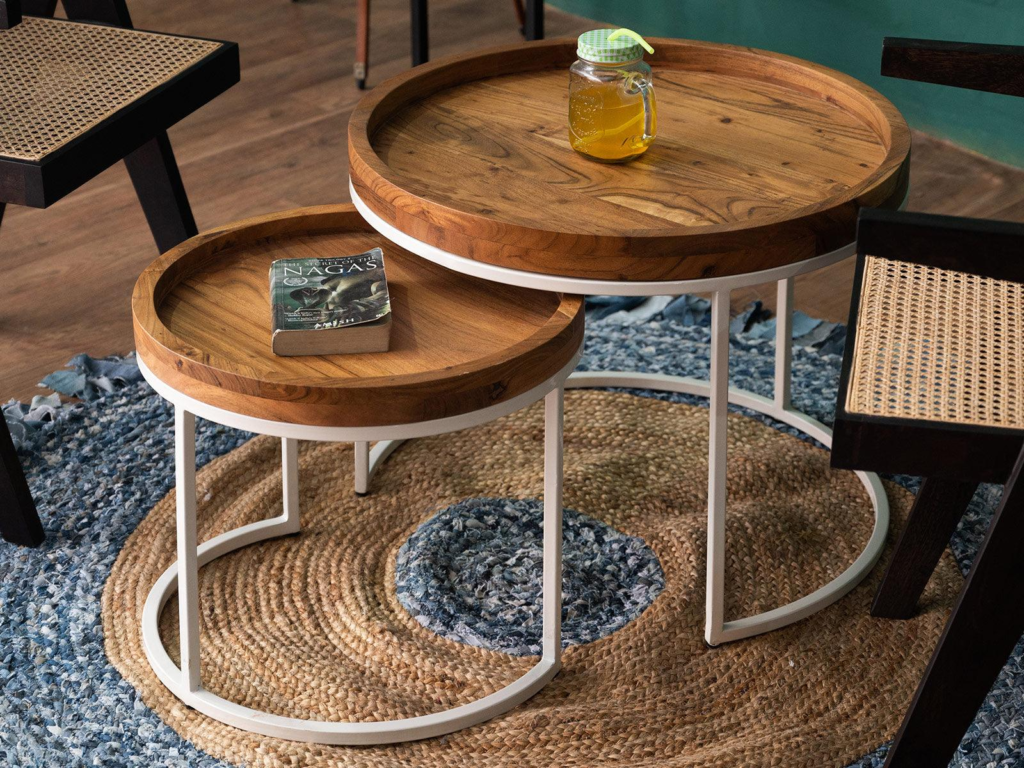 Console Table
Console tables are ideal for narrow spaces like hallways or behind sofas. They are long and narrow. These tables have a sleek design with a slim tabletop and minimalistic legs or a solid base. Console tables serve both decorative and practical purposes, displaying items and providing a surface for essentials like keys and wallets.
Florida Wooden Console Table (Distressed Barn Blue)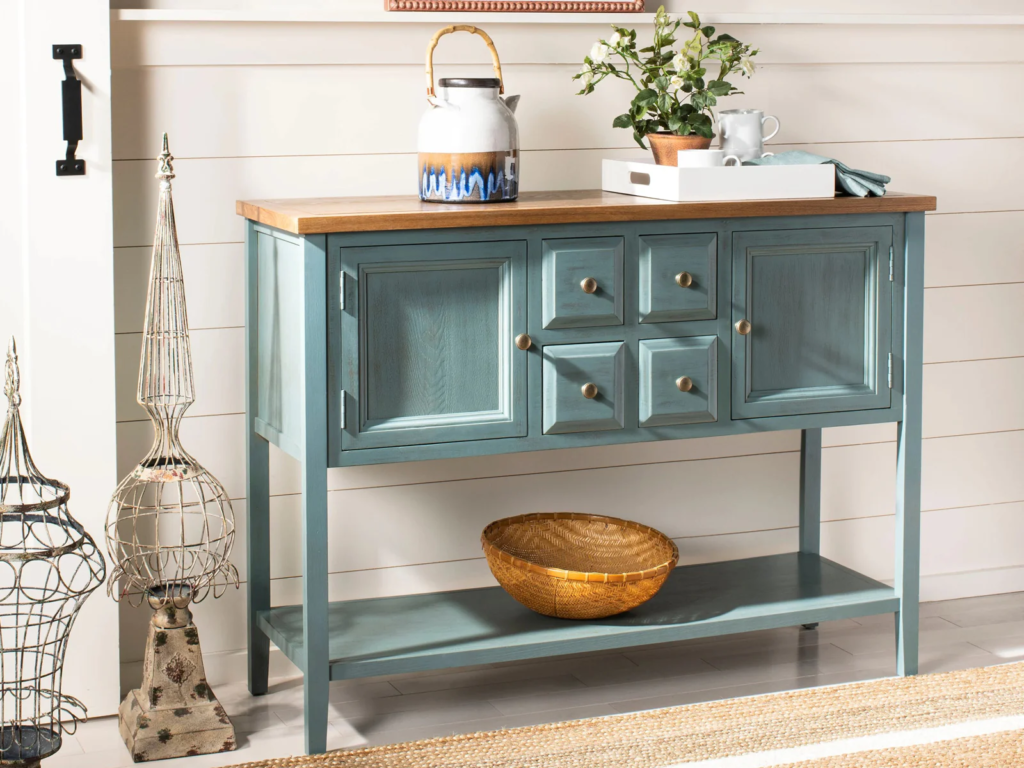 End Table
End tables are placed beside sofas or armchairs. They are smaller in size. These tables offer a convenient surface for beverages, table lamps, or remote controls. End tables may have a single drawer or a small shelf for storing small items.
Mehran Sheesham Wood Side Table #1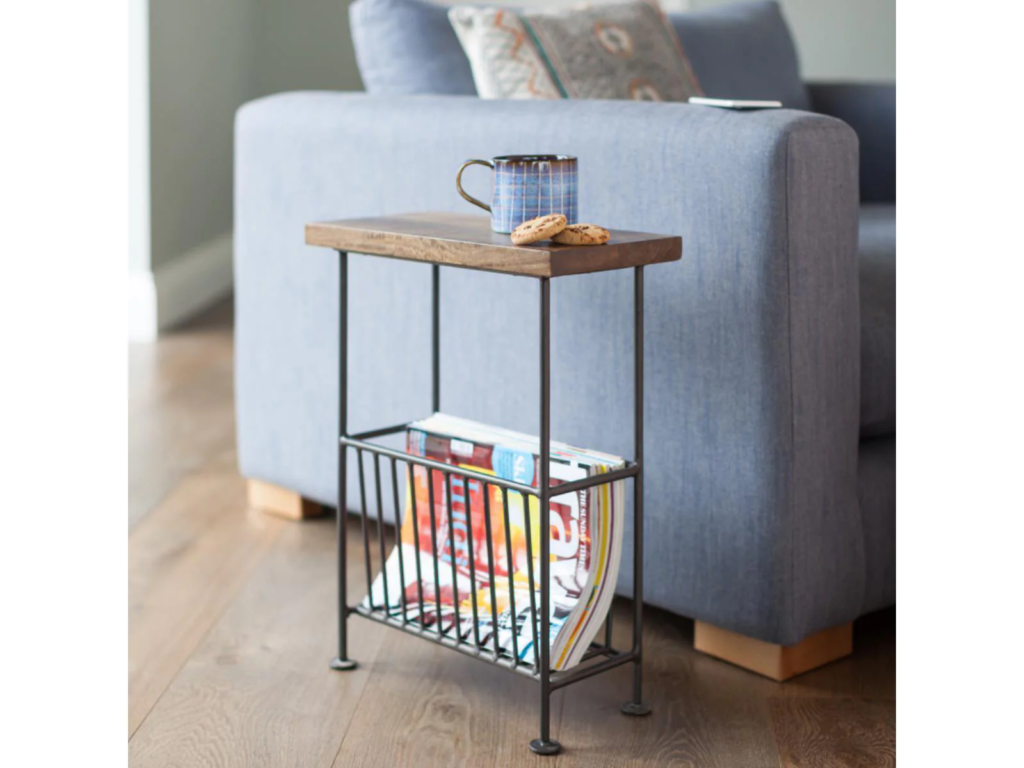 Side Table
Side tables resemble end tables but offer more versatility. They are smaller and can be placed next to chairs, beds, or used independently. Side tables are convenient for keeping essentials close by, like books, phones, or a cup of tea.
New York Wooden Round Side Table #2
Maintenance Tips
To maintain the longevity of your wooden center table, follow these tips:
Dust and clean regularly using a soft cloth.
Use coasters or placemats for spill and heat protection.
Avoid placing heavy objects on the table to prevent damage.
Periodically apply suitable wood polish or wax for shine maintenance.
Keep the table away from direct sunlight and excessive moisture to prevent warping or fading.
Choosing the perfect wooden center table for your dream living room is exciting. Consider size, material, style, functionality, and budget. Find a table that complements your interior design and fulfills your needs. Reflect your personal style and enhance the aesthetics of your living space.
FAQs
How do I determine the ideal size of the center table for my living room?
Measure the space and consider the layout and traffic flow. Ensure it doesn't obstruct movement and allows for comfortable seating.
Can I mix different types of wood furniture in my living room?
Yes, mixing different types of wood furniture can create an eclectic and appealing look. Ensure the wood tones and finishes complement each other.
What are popular wood choices for center tables?
Oak, walnut, teak, and mahogany are popular choices due to their durability and aesthetic appeal.
How often should I polish my wooden center table?
Polish every six to twelve months to maintain shine and protect it from damage.
Can I customize the design of my wooden center table?
Yes, many stores offer customization options to align with your vision.