I looked for the most comfortable sofa for years, and now that I've made an effort, I feel as though I know every couch inside and out. I'm here to make it simple for you to find a new one if you're looking. Finding your exact match is much easier said than done, even though there are thousands of options for internet shopping.
My perfect couch had to be the proper size, top-notch, fashionable, and comfortable. I've made a list of my 6 favorites, including affordable couches, leather sofas, and couches that work well in compact spaces to help you get ideas for making the best decision for your home.
Here Is a List Of The Best & Latest Designs To Decorate Your Living Room.
Daisy Premium Fabric Sofa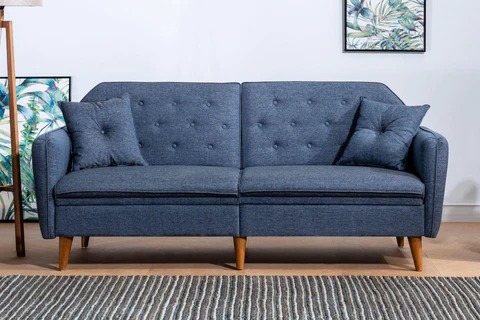 Do you appreciate sleek design and clean lines? If so, you will undoubtedly enjoy this sofa design. An additional popular couch design for living rooms is the Diasy Three Seater Anthracite sofa.
The rest of the decor is simple and 100% Handcrafted Stylish and beautiful Design. Premium Polyester Fabric upholstered. A comfortable seat and back are made from 30 DNS HR Foam. Legs made from solid wood
Norway Traditional Chesterfield & Leather Sofa
If you want exquisite minimalism, keep an eye out for this sofa design. Leather sofas and couches are always in trend. A leather sofa in a classy deep dark colour, such as black, teal, brown, or grey, Norway Traditional Chesterfield is the best choice to give the living area a sense of luxury, mystery, and richness.
The ideal sofa material, leather, can easily fit in modern, premium, and contemporary styles.
Norwich Vintage Chesterfield & Leather Sofa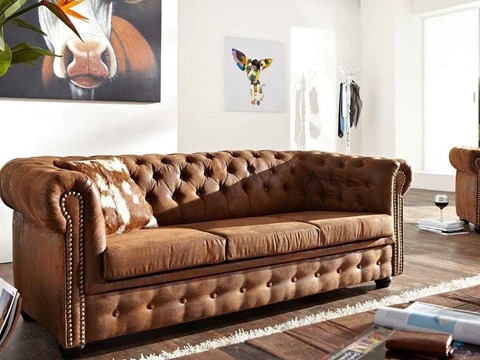 This noble couch turns any living space into an ode to ageless elegance and well-being thanks to its authentic design and fine craftsmanship. The Norwich Vintage Chesterfield Sofa provides adequate room for the whole family because of the significant sitting component and ottoman.
A living space that satisfies the highest standards is created by fusing the traditional English design with top-tier equipment characteristics. There is no doubt about your level of comfort.
Daina Anthracite Sofa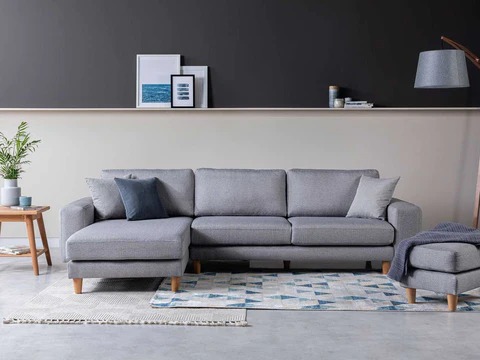 You only require a contemporary minimalist Diana Corner Sofa to improve your living room. For large families and those with larger living rooms, the Daina Corner Sofa is a popular choice for a family sofa. These traditional pieces all include fasteners that serve as connecting elements.
The corner and U-shaped sofa are the most typical and popular designs for Diana sofas. Due to its rising demand, there are numerous sectional couch shapes and materials on the market. You only need to add some back cushions or large, comfy pillows to create a comfortable sink-in spot.
Viktor Modern Wooden Sofa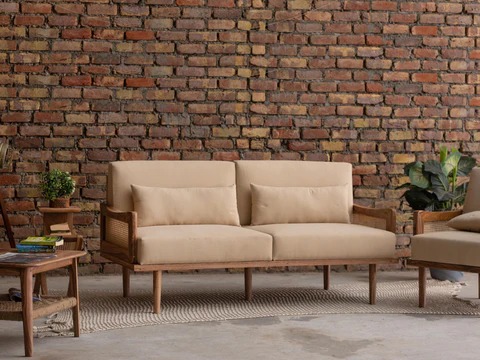 The terms "loveseat" and "settee sofa" are frequently confused. Despite having a similar appearance, they are not identical. For two to three persons, a settee is typically intended. 
On the other hand, a loveseat can be used alone and cannot be added to sectionals. ViKtor Modern Wooden Sofa is one of the most popular sofa come bed design, contemporary sofa models, for living rooms is the loveseat.
Ummed Modern Wooden Sofa Set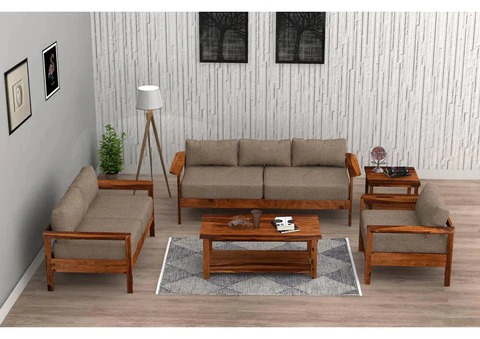 Do you still mind that difficult-to-move heavy wooden sofa from your college days? Even in today's world, that wooden sofa set design is timeless.
However, today's wooden sofa design has a modern twist and is much more elegant and less bulky. There are numerous colors and sizes of Ummed Modern Wooden Sofa designs. New stylish solid wood Sofa Set with comfort. Perfect selection of furniture for your Living Room. Excellent and modern design. Made with premium quality tempered Sheesham wood.
For a lovely and straightforward silhouette, choose any wooden-style sofa set that complements your living space perfectly. Then, combine it with patterns and textures.
Summing Up The Latest Sofa Designs To Decorate Your Living Room
The unique sofa design collection for the living room is close now. We hope that among the range of the most recent couch design images we've included, you've found the right one for you. The website has all the information you need to know about the best sofa design for a living room. And this wide variety of sofa styles in unique designs and patterns is both cozy and valuable for enhancing your living room.
Therefore, consider the space requirements, the home's style, and your family's preferences before choosing a sofa design.