Seeking the top wood platform beds online? We stand by you. These beds are incredibly appealing in so many ways. These feature elegant designs and low profiles and can have a good amount of beds with storage. So you have one less thing to buy and are ready to match your mattress. With style for every bedroom, we rounded together 6 of our best alternatives. There are many lovely options available.
Alpaca Modern Sheesham Wooden Bed
The Alpaca Modern Wooden Beds may be what you're looking for in your life if you like the natural wood grain appearance yet value a green choice. This headboard is made entirely of solid Sheesham wood and features a striking accent on the slatted pattern, which mimics the organic feel of natural wood. Additionally, you can select the perfect modern bed frame color for your room from a selection of original texture finishes. Even standard hardwood slats are made of Sheesham wood!

Modern Design, 100% Handcrafted. Unique and modern design. This bed is made from premium Sheesham wood with an original texture. This bed is available in Queen and King sizes. For a luxurious look, choose a wood design. Natural brown tone.
Gangaur Modern Wooden Bed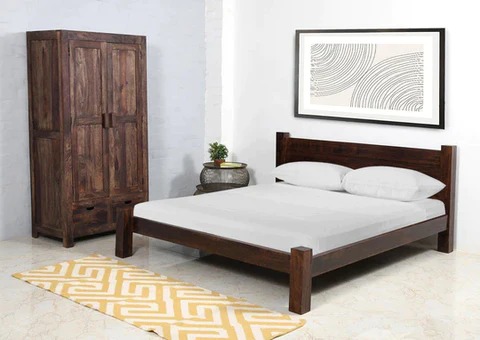 The Gangaur Modern Acacia Wooden Beds are a breath of fresh air and will feel warm and inviting in your bedroom. The solid wood Queen or King size beds frame and angled headboard of the Gangaur are perfectly proportioned and give the bed the appearance of a modern sleigh bed.

Featuring backrest support and a visually appealing design. Solid acacia wood. Natural wooden tone on a lacquered surface. Strong and sturdy structure.
Hawkin Solid Sheesham Wooden Storage Bed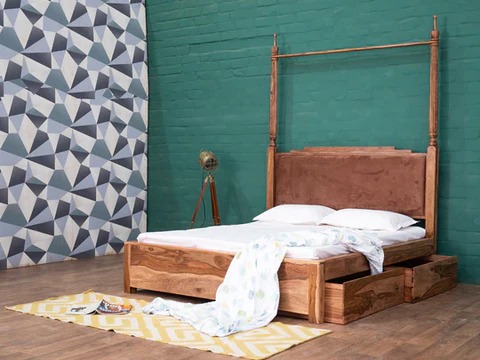 The Hawkin Sheesham Modern Canopy Poster Bed is a good example of traditional styling made effectively with a combo of eco-friendly Sheesham, rich fabric, and beds with storage. The Hawkin Wooden Beds Bed embraces the twenty-first century and provides a sustainable product you can feel good about, thanks to the more modern choice of Sheesham over a traditional wood frame material. This bed's classy design will improve the appearance of your bedroom. Even the so-called "wooden slats" are made of Sheesham!
Modern Design, 100% Handcrafted Unique And Stylish Design. This bed is made with premium quality Sheesham wood and a unique texture finish. Modern bed in King and Queen sizes. A Luxury Look With Exciting Wood Designs Natural Hawkin Texture Tone.
Novo Premium Solid Acacia Wooden Bed
With its solid hardwood veneer frame to provide both form and function, the Novo Premium Solid Acacia Wooden Bed is the standard platform. The Novo Premium Wooden Beds, with a platform height of 12 inches, will be a central focus in any bedroom. Additionally, Novo will surely go well with your decor and way of life because it comes in a range of Novo Premium colours and finishes.
Handmade, 100% handmade bed made from solid Acacia wood. Innovative and fashionable design. Cozy & strong built quality. This bed is made from premium quality acacia wood. Modern Bedroom Bed. Novo Premium wood texture in white tone.
Preyas Mango Wood Teak Finish Wooden Bed
The Preyas Teak Finish Bed is a sleek, modern take on a trendy hardwood bed frame. It is another environmentally friendly product constructed of planet-friendly 100% solid Mango wooden beds. Thanks to the upholstery on the angled headboard, you will have all the support you need as you read yourself to sleep. Mango wood is used for the base and footboard of the design, giving it a refined and upscale appearance.
This bed is made from premium Mango wood with a Teek texture. This bed is available in Queen and King sizes. Elegant design in wood. Teek brown texture tone.
Vismit Solid Sheesham Wooden Bed
The Vismit Modern Sheesham wooden Storage Beds is kept in a clean, straightforward design that blends a modern farmhouse with a Scandinavian style. Despite having a little insertion depth, it features an unusual structural feature that gives it elevated side parts and a comfortable lying height and designs of beds with storage.
The Sheesham's warm, light brown tone on the exterior makes it stand out since it exudes a cozy, calming aura onto the surroundings. The high headboard is another benefit, allowing you to enjoy comfortable TV and reading nights or have breakfast in bed. The solid wood bed also excels in quality because it is made of stable, strong, and long-lasting Sheesham.
Modern Design, Comfortable and stylish solid wood bed. Handcrafted by Sheesham wood grains. Linear Construction with a Low Heights.
Summing Up Best Modern Platform Beds to Upgrade Your Bedroom Style
So there you have it, then! As you can see, I have similar likes in furniture, leaning more toward mid-century modern and enjoying simple, classic designs. I concluded that the style was manly and appreciated dark, rich woods with harsher details. Furthermore, I enjoy softer textures that mix my passion for modern and luxurious designs.
Now you have to make the difficult decision of which of these lovely wooden beds to bring home. You can rest easy knowing that I have selected the best modern wooden platform beds to complement your taste.