Introduction
In any home, the dining room is a key hub that houses families and friends gathering for sharing meals, stories or making permanent memories. A thoughtfully selected dining table set is not only a useful piece of furniture, but an addition to the space's character and style. We're going to explore a variety of dining table set designs in this article, studying styles, materials, sizes, colors and finishes so that we can help you make the right choice for your home.
13 Latest Dining Table Set Designs
Styles & Types
Modern Dining Table Set
Clean lines, smooth designs and the latest aesthetic are hallmarks of Modern dining table sets. The frames that often constitute these sets, which convey an impression of sophistication and simplicity, are metal or smooth wood with no embellishments. Modern dining sets are remarkably easy to integrate into modern interiors thanks to their simplicity and flexibility, making a sophisticated statement.
Veena Dining Table Set 6 Seater With Solid Wood Top & Iron Legs #1
Rustic Dining Table Set
Rustic dining table sets exude a comfortable, rural feel, embracing imperfections with reclaimed wood. Their earthy charm creates an inviting atmosphere for gatherings.
Elementary Dining Table Set 6 Seater # 2
Industrial Dining Set
The industrial dining table sets combine raw materials, like metal or wood, to create an edgy urban look. With an emphasis on utilitarian design, these sets often feature exposed bolts and minimalistic forms. Ideal for loft apartments or contemporary spaces, industrial dining tables add some ruggedness and individuality to the living area.
Elementary Modern Live Edge Acacia Dining Table Set #1
Contemporary Dining Set
The contemporary dining room sets are offered in a variety of styles that combine elements from the current era, traditional patterns as well as future trends. These sets are very adaptable, catering to an extensive range of tastes. Contemporary dining tables are a statement piece, which brings your home a touch of creativity thanks to their bold shapes, innovation materials and artistic flair.
Gangaur Dining Table Set 4 Seater #35
Materials
Wooden Dining Table Set
Adored for their timeless beauty and durability, wooden dining table sets with oak, mahogany, or teak designs exude elegance. The intricate grain patterns and finishes make each set a unique work of art, bringing nature indoors. Elevate your dining experience with these exquisite wooden dining table sets and their charming designs.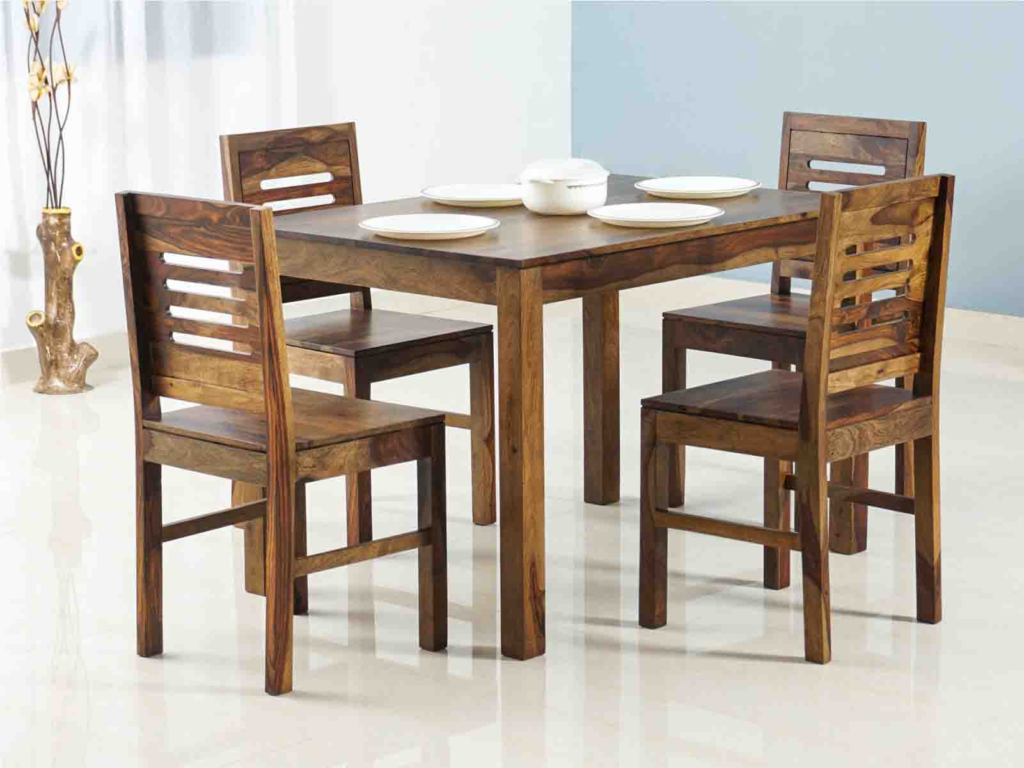 El Monte 4 Seater Dining Table Set #3
Glass Dining Table Set
Modernity and simplicity are embodied in the glass dining table sets. Clear glass tops create an illusion of space, which makes the dining area more inviting and comfortable. Glass dining sets offer an elegant, contemporary look which complements different interior styles in combination with metal or wooden frames. The charming charm of glass dining tables and their modern designs will enhance your dining room.
Marble Dining Table Set
Marble dining table sets exude opulence and luxury. The polished marble surface adds a lavish touch to your dining room. With distinct veining patterns, each marble dining set is a unique and magnificent statement piece, elevating the ambiance of your home.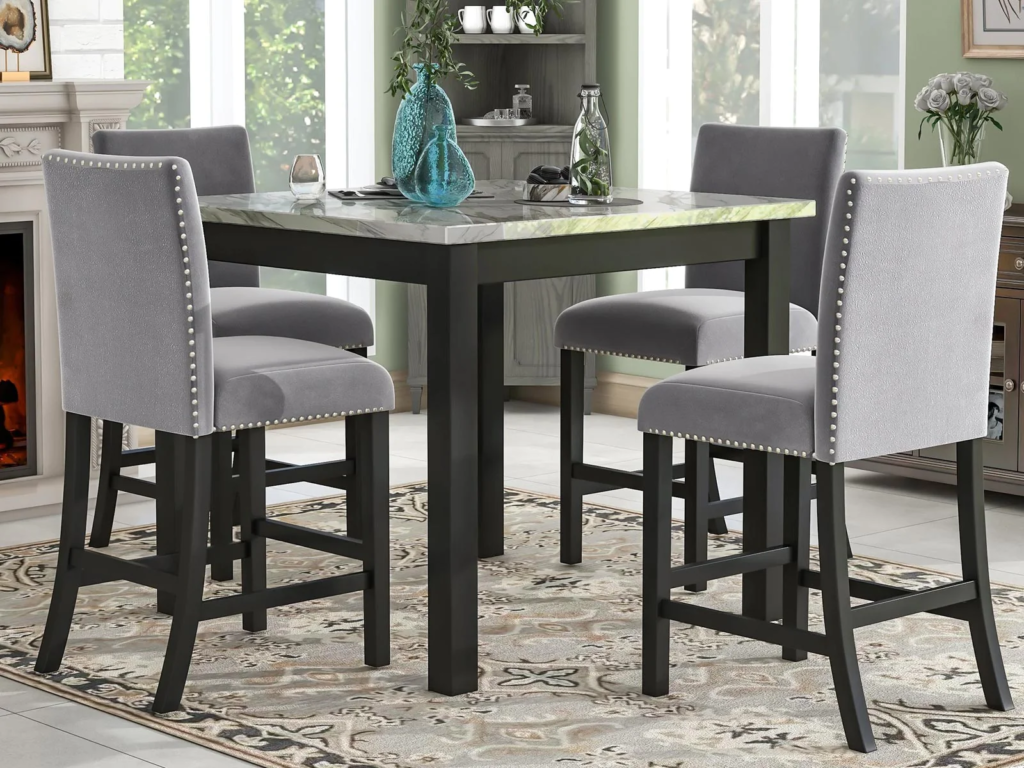 Black Marina Dining Table Set 4 Seater #21
Size & Seating
8 Seater Dining Table Set
Ideal for large families or those who frequently entertain guests, 8 seater dining table sets provide ample space for everyone to gather comfortably. These sets come in various designs, from traditional to modern, catering to different aesthetic preferences.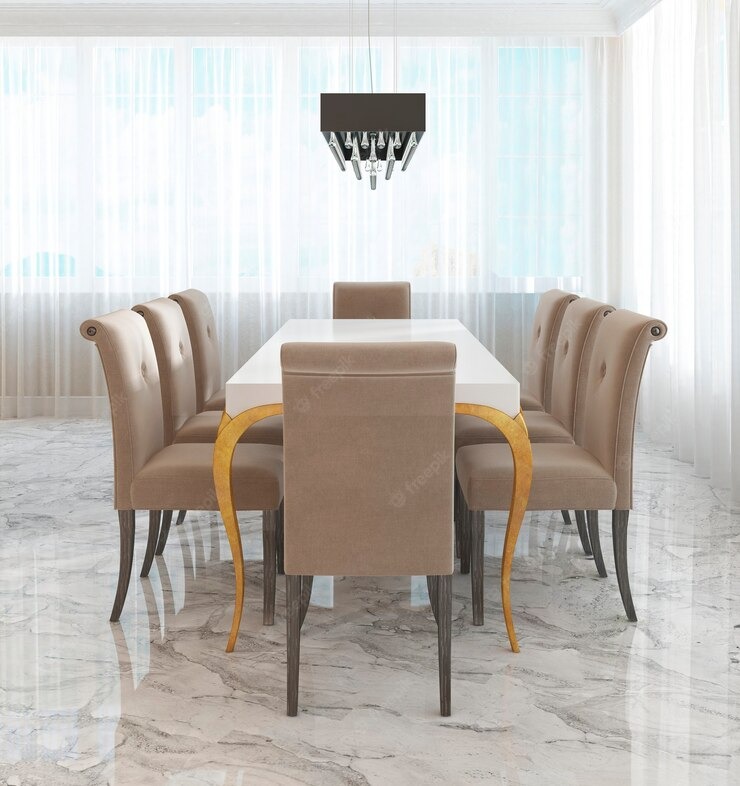 6 Seater Dining Table Set
6 seater dining table sets strike a balance between space and intimacy. Perfect for medium-sized families, these sets offer sufficient seating for family members and the occasional visitor.
Goa Dining Table Set 6 Seater #8
4 Seater Dining Table Set
4 seater dining table sets provide a cozy and intimate setting for meals. They are available in a wide range of styles, making them versatile choices for various interiors.
Nature Dining Table Set 4 Seater #7
2 Seater Dining Table Set
2 seater dining table sets are perfect for couples or small apartments. Despite their compact size, these sets do not compromise on style and can add a romantic touch to your dining area.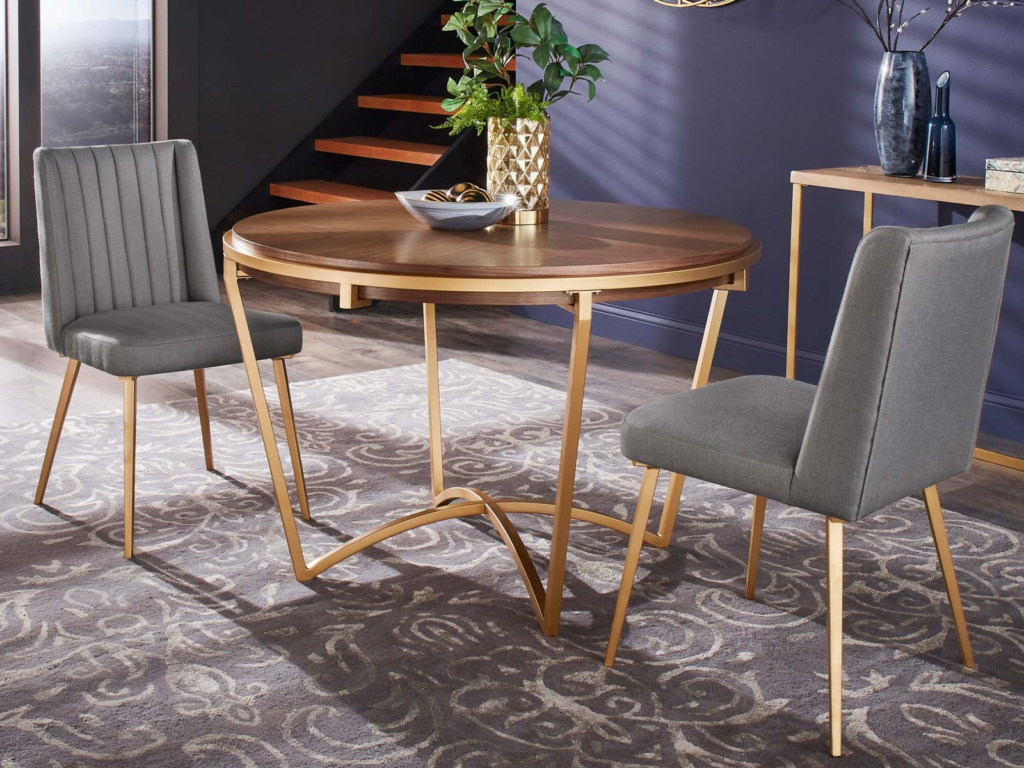 Veena Dining Table Set 2 Seater #2
Extendable Dining Set
Extendable dining sets offer flexibility for both small and large gatherings. These sets come with a mechanism that allows you to extend the table when needed, accommodating additional guests with ease.
Rio Modern Sheesham Wood Extendable Dining Table #1
Colors & Finishes
White Dining Table Set
White dining sets exude Pure elegance in your dining area. Their versatility effortlessly complements various interior styles. Elevate your space with the timeless charm of white dining table sets and their exquisite designs.
Novo Premium Dining Table Set 4 Seater #25
Black Dining Table Set
Black dining table sets offer a bold and sophisticated look. The dark hue adds a touch of drama and modernity to the dining area, making it an excellent choice for contemporary interiors.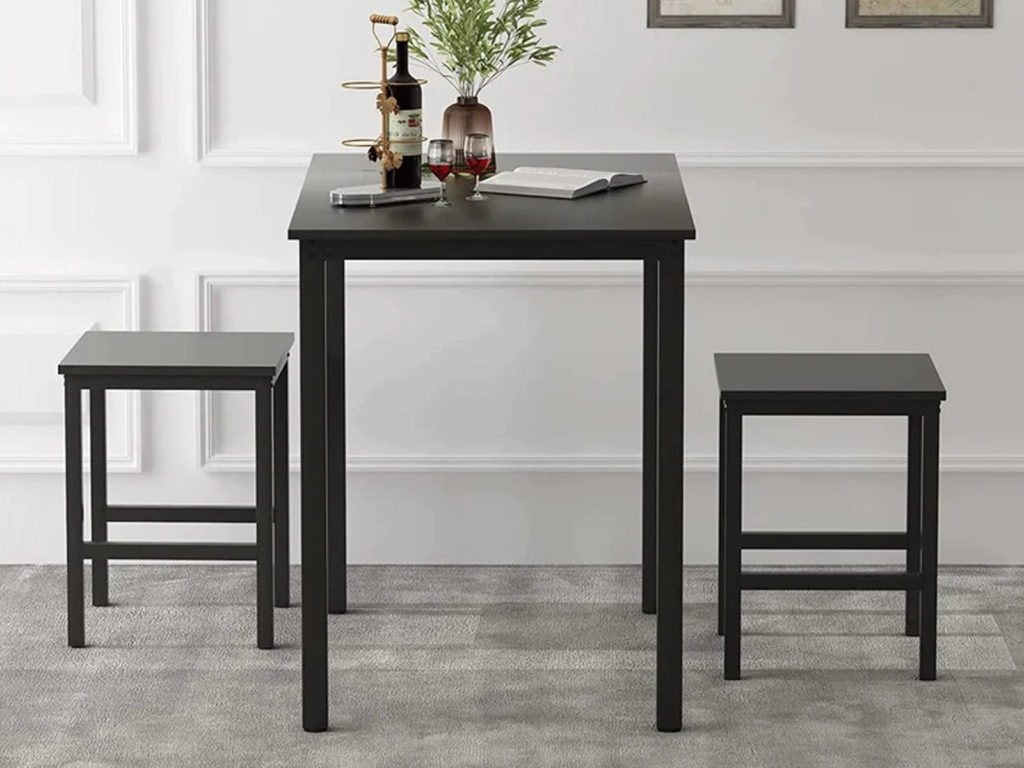 Black Marina Dining Table Set 2 Seater #6
Blue Dining Table Set
You can create a calming and refreshing mood in your blue dining table sets. From soft pastels blue to deep navy, these sets are adding a touch of peace and beauty to your home.
Florida Wood Dining Table Set 6 Seater #5
Grey Dining Table Set
Grey dining table sets strike a perfect balance between subtlety and elegance. The neutral tone complements various decor styles and allows you to experiment with colorful accents.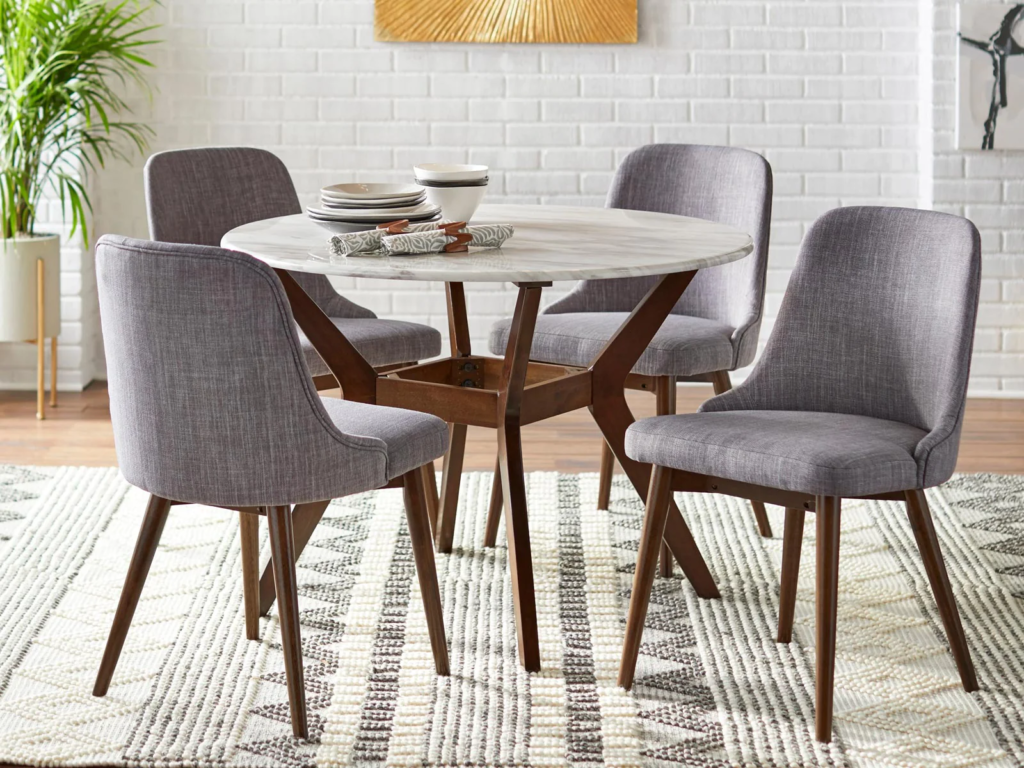 Xoteak Dining Table Set 4 Seater With Marble Top #3
Brown Dining Table Set
Brown dining table sets, especially in rich wooden finishes, exude warmth and coziness. These sets create a welcoming and inviting atmosphere for delightful dining experiences.
Nature Dining Table Set 4 Seater #34
To select the best dining table set, consideration must be given to a variety of factors, including their style reflecting your taste, materials suited to your lifestyle, size which will accommodate family and color that complements home's atmosphere. With so many choices available, you can choose the ideal dining table set that meets your functional requirements but also brings beauty and elegance to your home.
Happy dining and may your cherished moments be filled with love and joy around the dining table!