Going by the range of options available in the market, finding the right sofa for your home can seem like a daunting task. Should you prioritize comfort or price or style or the material?Should you go for something that's trendy and chic or for something long-lasting?
As a player in the furniture industry, we understand that a sofa is the heart of your living room. So, naturally you want to make the right choice when it comes to picking the perfect sofa. In this article, we answer all your sofa-shopping related questions while offering you the guidance on how to pick the best one.
Size, Placement and Preferences
The space where your sofa will be located is the first and foremost factor to consider before you begin shopping. The best way to get a good fit is to take measurements of your space. When you measure your room, make sure that you take measurements from all sides, including the width of your entryway and the dimensions of the room.A whole sofa set usually comprises of a 3-seater sofa, a 2-seater sofa and 2 single sofas but today, you don't need to invest in a whole set if your preferences demand something different. For example, if you have a small apartment, an 8-foot sofa is the optimal length for the living room. However, if your family is large or you have a limited space, you may want a smaller couch or even two club chairs such as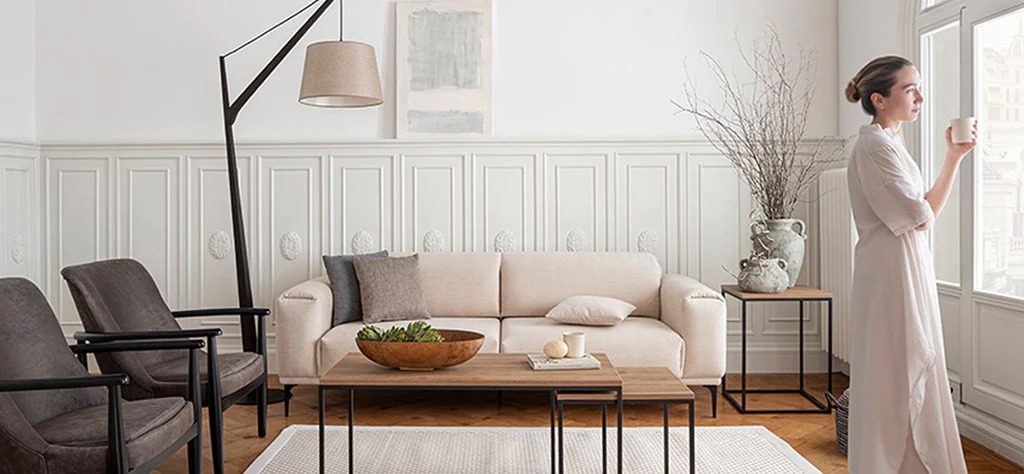 While taking the measurements, also visualize where you want to place the sofa set. In a living room, a sofa should be placed in the middle of the room, and it should not be too close to walls, windows, fireplace, bookshelves, or canopies, if the space allows. An L-shaped or corner sofa can also help you safe plenty of space, and a wide range can be found here: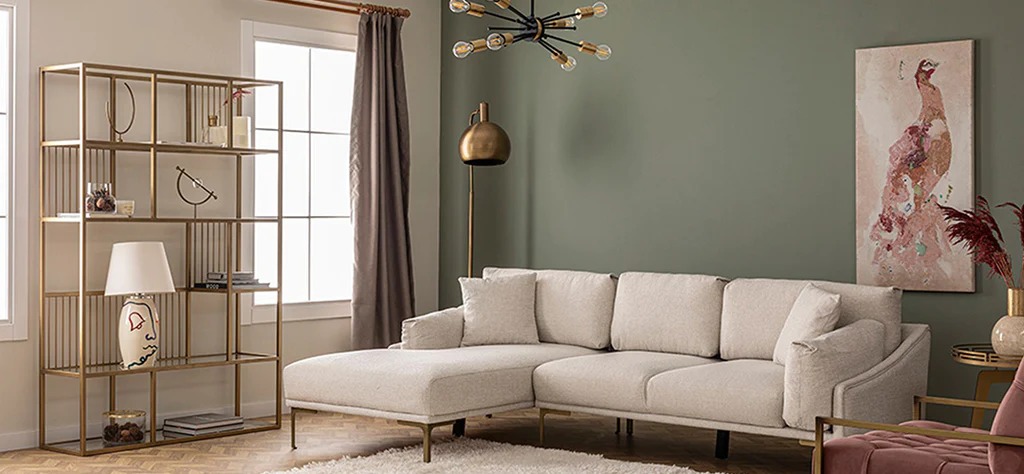 Another thing to remember is how many people do you see using the sofa. If you are a social person and often have gatherings at home, you might need more seating space. In such a case, our Chesterfield Lounge sofas which are popular for being spacious and offer a unique style might be a suitable option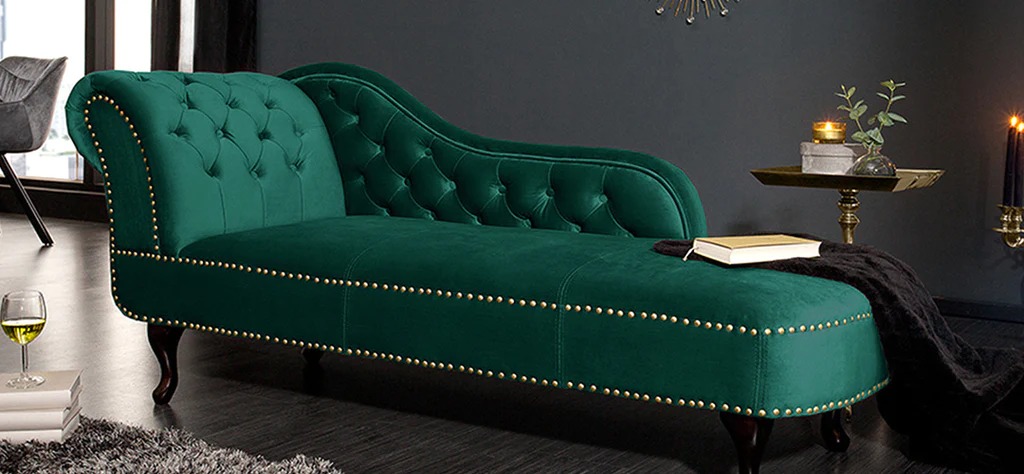 If, however, you have a small apartment and don't often host guests, you could consider keeping your living room space airy with a slightly smaller sofa size. Once you have made a note of all these factors that affect the size of your sofa, you're ready for Step 2.
Fabric
Your selection of fabric is an important consideration when purchasing a sofa. It should match the overall theme of your room while still providing maximum comfort. The material must match the colour of the walls and other furnishings. Whether it is leather, linen, or synthetic, it should complement the room's décor. And, as far as style and colour, a sofa should be a focal point of your living room. The color of the cushions should be complementary to the overall color and finish of the furniture.
A few other factors to consider when choosing the fabric of your sofa is its usage and cleaning. For example, if you have a pet at home, you will want to steer away from synthetic or linen. Leather might be the best choice in such a case as it is the easiest to clean by yourself, and you would not need to invest in professional cleaning services each time you want to clean it. You can access a range of exquisite leather sofas here:
Further, if the sofa is for everyday use such as in a family room or informal living room, you will want to choose a lighter fabric like linen but if it is for the formal living room or only for when guests arrive, you may want to go for something slightly fancy and lustrous such as leather. Your budget will also determine the fabric you opt for.
Durability
If you invest in an expensive or fancy sofa set, chances are you will want to keep it around for a few years. While it might be tempting to opt for trendy pieces for your living room, do remember that a sofa is the focal point of your living room, and it's best to make one well thought out investment as opposed to multiple purchases over the years or unnecessary spends on maintenance. For the same reason, it's also best to choose an evergreen colour as opposed to something that is currently "in." You can never go wrong with neutral shades or classic browns as these also perfectly match furniture.
In terms of durability, you want to make sure that you choose a solid wood frame instead of a lightweight, plastic frame. Moreover, you should also make sure that the back and legs of your sofa are made of solid wood. If your sofa is not made of solid wood, it is likely to be flimsy, and hence less likely to last longer. In the market today, there exist multiple options for solid wood living room furniture. This not only adds a charm and heirloom vibe to your living room but is also a value for money as the products will last you for generations to come. At Duraster, we offer a range of sofas, all of which are made entirely out of solid wood: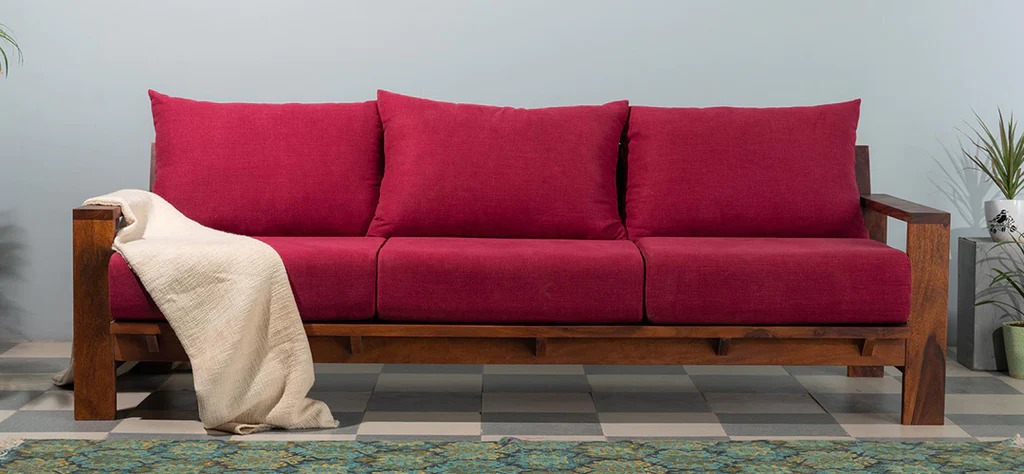 . If you're looking to use it for a long time, a high-quality solid wood sofa should last you seven to 15 years.
Conclusion:
A sofa is the center of activity in a living room, and often the space where the most endearing conversations take place. It is usually the hotspot for fun even if it's only your family enjoying a late evening or a group of friends you're entertaining. Either way, the sofa will not only add life, colour and character to your living room, it will also be where you spend a lot of your time sitting. To do so well, you must consider a sofa that is the right mix of comfort and style. You can achieve this by paying careful attention to the sofa size, fabric, quality and durability. If, after accounting for these factors, you still feel unsure about picking the right sofa for your home, we can customize the perfect one for you.