Believe it or not – we spend 1/3rd of our lives in bed so it makes sense to put substantial thought before deciding to buy a bed that's perfect for you. The wrong bed, on the other hand, can lead to sore muscles, back pain and sleep deprivation.
A bed should match your lifestyle, sleep patterns, comfort and style choices etc. So, what factors should you consider before making that valuable investment? Here are 7 of them:
Conduct Online Research:
Thankfully, today you don't need to go store to store in search of the right bed. Visit various furniture websites online and try to understand the varieties of beds as well as the material you are looking for. Solid wood beds made from natural materials like sheesham or mango wood are great choices for a bed. Not only are they aesthetically superior with a natural finish but will also last you longer.
Think of Who's Sharing the Bed:
If you're going to share your bed with a partner or someone else, then ensure you pick the right size while also inlcuding their say in it. The best must be comfortable for anyone who plans to use it. Make sure it's the right size and comfortable enough for both and matches your sleeping style. And if you have children or pets, choose a lower-to-the-ground bed. Even if you're looking for a bed for one person, think about whether you enjoy the extra space or don't mind restricting yourself to a single bed to save space in the bedroom.
Consider the Room and Bed Size:
In any bedroom, the bed typically occupies the maximum space. Think whether you have space for a large bed, or would a smaller bed save space to move around comfortably? Remember that to relax, you need to have reasonable space around your bed. After considering these factors, decide whether you need a king-size, queen-size or twin bed. wooden beds for bedroom

Storage Space is Key:
If you don't have space in your room for a big wardrobe, or you don't know where to put your spare stuff, then you should opt for a bed with storage space. Either way, it doesn't hurt to get a bed that has substantial storage. These are the best type of beds for small rooms as they give you plenty of extra space to customize your bedroom as per your needs and style.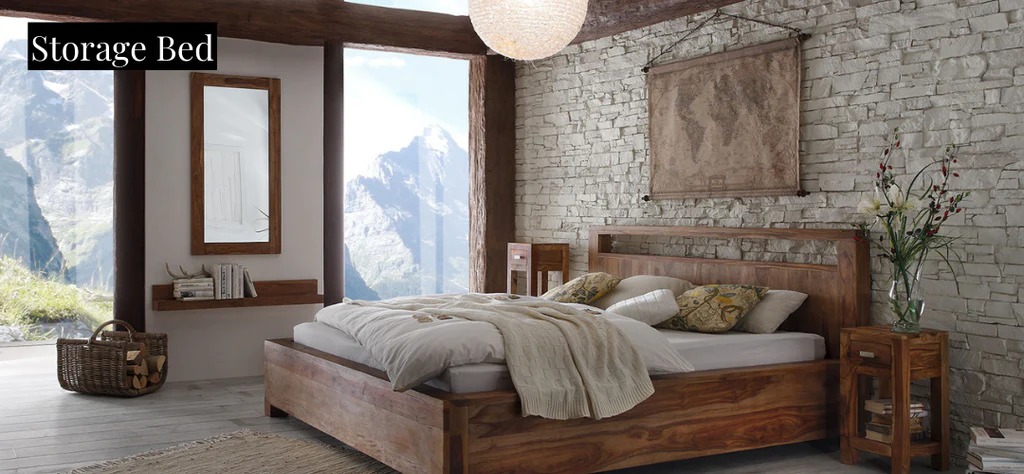 Storage bed
Ensure it Feels as Good as it Looks:
While a contemporary and chique bed might be what you're looking for, don't forget the comfort. You would spend most of your time sleeping on the bed hence, it should provide maximum comfort. For aesthetics, do remember that your bed's design and colour should match your bedroom furniture like wardrobe, drawers, mirror etc.In terms of comfort, try the bed out before buying if you have a chance, think about headboards, bed's height etc.
Choose A Bed That Works for Your Back
At Duraster, we have a variety of beds that are the best for your back support and also correspond tothe size, shape and sleeping style of the sleeper. If you have any majpr back issues, remember to choose a bed and mattress that help you with those issues and offer you the most amount of comfort. When possible, you should buy a new mattress when buying a new bed. Memory foam, innerspring, hybrid, latex, and adjustable air are the most used mattresses.
Also read: Why to Choose Solid Wood Furniture?
You Get What You Pay For
The best bed doesn't always have to be expensive but it's also probably not the cheapest. A cheap bed might look fine but it won't give you the comfort you need for a good night's sleep for years. Sometimes, a poorly chosen bed can worsen any health issues that you might have. While cost is a factor when buying a bed, do prioritise comfort and lifestyle the most as the right bed will last you years!
Conclusion:
At the offset, it might seem like there is a plethora of options to consider when you're buying a bed but once you factor in the above parameters, you can narrow down your choices. And for any guidance or end-to-end help, you can always visit www.duraster.com